Atlanta community celebrates 29 year anniversary of OutKast's debut album
Shanti Das: OutKast's first album was a musical masterpiece and was a turning point for Southern Hip-Hop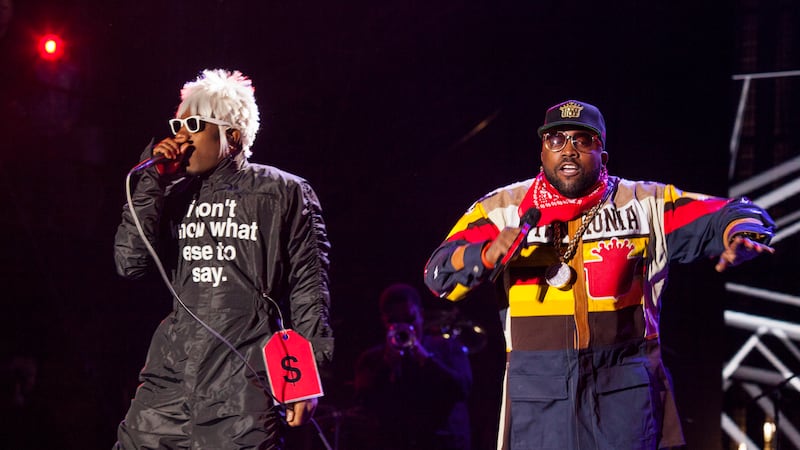 Published: Apr. 26, 2023 at 8:33 PM EDT
|
Updated: Apr. 26, 2023 at 8:34 PM EDT
ATLANTA, Ga. (Atlanta News First) - When it comes to Hip-hop music, entertainment, history, and culture, Atlanta is widely recognized as one of, if not the most influential city around the world. Many people point to the iconic rap duo OutKast's debut album, "Southernplayalisticadillacmuzik" as the foundation of Atlanta Hip-hop music.
Big Boi, whose real name is Antwan Patton, is one-half of the Grammy award-winning and multi-platinum Atlanta rap group Outkast, which also features the iconic Andre 3000.
Patton and Andre 3000, whose real name is Andre Benjamin, first met while they were in high school. The ground-breaking duo is best known as one of the first and most prominent rappers to represent the Atlanta music scene on a national level in the early 1990′s.
"As an Atlanta native, the album really set the tone for the South! I was only 2 years old when it dropped, but for me to know the words and actually still be able to vibe to Outkast years later proves that they released nothing but timeless music," prominent 107.9 Radio Personality and Atlanta native MiAsia Symone said. "When they had "Git Up Get Out" playing in the movie "ATL," that immediately went on my ATL playlist. I was playing it as it came out in 2006, not really realizing that the song was 12 years old."
The album was a fierce, unique, and ground-breaking staple of Atlanta culture and music.
"OutKast's first album "Southernplayalisticadillacmuzik" was a musical masterpiece and was a turning point for Southern Hip-Hop that would change the trajectory of the Southern artists in the genre for eternity," said Shanti Das, former LaFace music executive, and prominent music industry veteran. "Big Boi and Andre 3000 were and are arguably the best emcees that the genre has ever witnessed. It was an absolute joy and dream to work side by side with them bringing their brilliance and magic to the masses."
Big Boi is best known for numerous chart-topping hits, features, and mixtape songs including "ATLiens," "So Fresh, So Clean," Hey Ya, In The A featuring Atlanta legends Ludacris and T.I., International Players Anthem featuring UGK rappers Pimp C and Bun B, Roses, Kryptonite, I'm So Hood Remix, Kill Jill featuring Atlanta legends Young Jeezy and Killer Mike, Hollywood Divorce featuring Snoop Dogg and Lil Wayne, Ms. Jackson and more.
Andre 3000 is recognized as one of the most innovative, influential, and powerful lyricists in hip-hop. Among his many hits and songs in his career is "Ms. Jackson", "Hey Ya", "The Way You Move", "ATLiens," "So Fresh, So Clean," "Green Light with John Legend", "The Real Her" with Drake and Lil Wayne, "Sorry" with T.I., and more.
"Big Boi's influence on the Atlanta music scene can't be measured. Not only did he and Andre 3000 take the already established Atlanta industry to the next level, but he also opened doors for the next generation of hitmakers," Peachtree TV Station Manager Micheal Smith previously said.
According to Dungeon Family member Blackowned C-Bone, it was a reminder that Atlanta was more than just a city that made dance music at clubs.
"When that album came out it gave Atlanta, Georgia a lot of respect," he said. "All of our songs were made for strip clubs basically at that time. At that time New York had the ball and we couldn't get the ball until OutKast came out. It gave people in Atlanta hope. Looking back at the last 29 years, we haven't given the ball back."
Blackowned C-Bone is also a part of the rap trio Konkrete and featured with OutKast on the hit song, "Kryptonite."
OutKast paved the way for countless rappers and musicians and changed the way that people viewed Southern hip-hop music.
Copyright 2023 WANF. All rights reserved.