Hawks lose Game 6 to Celtics 128-120, eliminated from playoffs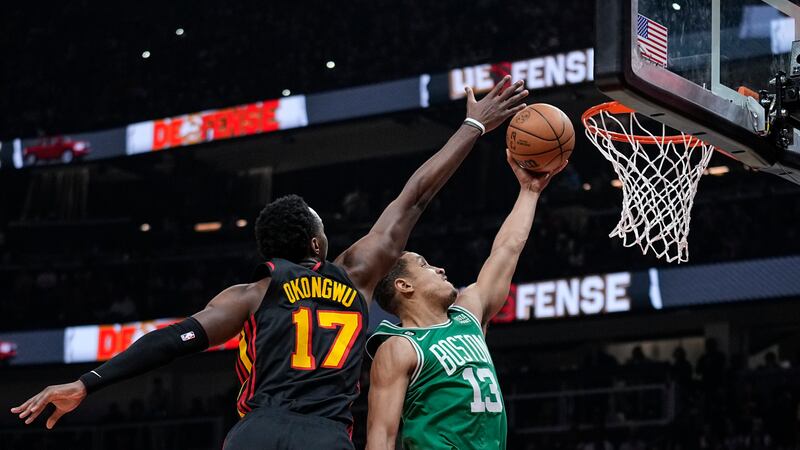 Published: Apr. 27, 2023 at 10:56 PM EDT
ATLANTA, Ga. (Atlanta News First) - The Hawks lost Game 6 to the Boston Celtics 128-120 and have been eliminated from the NBA playoffs.
Al Horford hit a huge 3-pointer against his former team and the Boston Celtics broke open a tight game in the closing minutes.
The second-seeded Celtics advance to face the third-seeded Philadelphia 76ers, who've been resting since completing their four-game sweep of Brooklyn last Saturday.
Game 1 is Monday night in Boston.
Boston ripped off an 11-0 run that included three straight 3-pointers, with Horford's big shot sandwiched around 3s from Jayson Tatum and Jaylen Brown.
Tatum capped the spurt with a dunk, which gave the Celtics a 121-113 lead with 2:07 remaining.
Brown led the Celtics with 32 points, while Tatum had 30. Horford, who played in Atlanta from 2007-16, chipped in with 10 points and 12 rebounds.
After carrying the Hawks to an improbable victory in Game 5 at Boston, Atlanta's Trae Young ran out of steam in the second half. He missed 12 of 13 shots over the final two quarters.
Young had 30 points and 10 assists, but he finished just 9 of 28 from the field.
Young praised Hawks coach Quin Snyder after the game, saying "he's gonna be great for us. I'm excited for the future with him."
Copyright 2023 WANF. All rights reserved.