Aerosmith announces 'Peace Out' tour with stop in Atlanta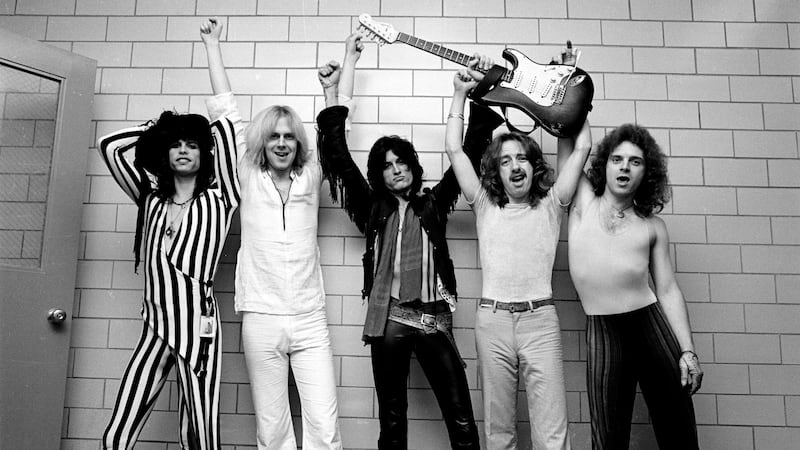 Published: May. 1, 2023 at 11:52 AM EDT
|
Updated: May. 1, 2023 at 12:05 PM EDT
ATLANTA, Ga. (Atlanta News First/AP) - The Rock & Roll Hall of Fame band Aerosmith announced their farewell tour Monday with a stop in Atlanta.
Aerosmith will celebrate their last time on tour after 50-plus years together, saying "Peace Out" during their final 40-stop tour.
The tour will begin on Sept. 2 in Philadephia, with a stop in Atlanta on Oct. 14 which also includes a stop in the band's hometown Boston on New Year's Eve. Tickets for the show are already on sale and can be purchased here.
"I think it's about time," guitarist Joe Perry said in an interview with The Associated Press.
Perry said the group, with frontman Steven Tyler, bassist Tom Hamilton, drummer Joey Kramer and guitarist Brad Whitford, learned from the staging and production from their recent Las Vegas residency shows.
Perry believes the time to say goodbye is now, especially with every founding band member over the age of 70. Tyler, 75, is the oldest in the group.
"It's kind of a chance to celebrate the 50 years we've been out here," Perry said. "You never know how much longer everybody's going to be healthy to do this. … It's been a while since we've actually done a real tour. We did that run in Vegas, which was great. It was fun, but (we're) kind of anxious to get back on the road."
Tyler and Perry said the band is looking forward to digging into their lengthy catalog of the group's rock classics including "Crazy," "Janie's Got a Gun" and "Livin' on the Edge."
Over the years, Aerosmith, which formed in 1970, has collected four Grammys. The band broke boundaries intersecting rock and hip-hop with their epic collaboration with Run-DMC for "Walk This Way."
Aerosmith performed the Super Bowl halftime show in 2001 and even had their own theme park attraction in 1999 at Disney World in Florida and later in Paris with the launch of the "Rock 'n' Roller Coaster Starring Aerosmith" ride.
"We're opening up Pandora's Box one last time to present our fans with the Peace Out tour," Tyler said in a statement to the AP. His "Pandora's Box" reference calls out Aerosmith's 1991 three-disc compilation album that covered the band's output from the 1970s to the early 1980s.
"Be there or beware as we bring all the toys out of the attic. Get ready," Tyler added.
The band said Kramer decided to not take part in the current dates on the upcoming tour. He's still a part of the group, but the drummer has been on leave to "focus his attention on his family and health" since their Vegas residency last year. Drummer John Douglas will continue to play in his place.
Perry called Kramer their brother. The band said his "legendary presence behind the drum kit will be sorely missed."
Before the 40-date tour wraps, Perry said other cities domestically and internationally could be added.
"It's the final farewell tour, but I have a feeling it will go on for a while," he said. "But I don't know how many times we'll be coming back to the same cities. It could very possibly be the last time."
Copyright 2023 WANF. All rights reserved. The Associated Press contributed to this article.