'None of us are safe' | America reacts to Atlanta's latest mass shooting
Georgia's Raphael Warnock took to the Senate floor; Joe Biden, Kamala Harris briefed on the shooting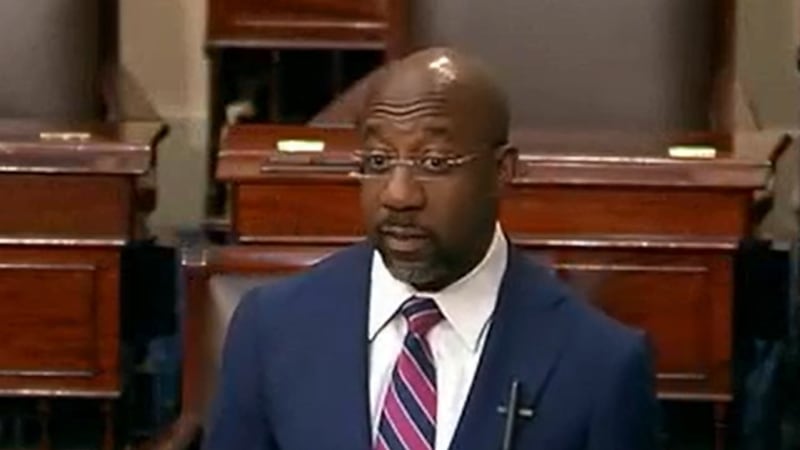 Published: May. 3, 2023 at 3:55 PM EDT
|
Updated: May. 3, 2023 at 8:03 PM EDT
ATLANTA, Ga. (Atlanta News First) - The midtown Atlanta mass shooting that left one person dead and at least four others injured immediately gained the attention of the nation's top political officials, including President Joe Biden, Vice President Kamala Harris and Georgia's two Democratic U.S. senators.
WATCH LIVE: 1 dead, 4 injured in Midtown medical building shooting, suspect at large, police say
U.S. Sen. Raphael Warnock took to the Senate floor just before 3:30 p.m., in which he said, "None of us are safe, no matter where we are.
"I stood here in March 2021, when a gunman stole eight precious souls," Warnock said, recalling the mass shooting that took place across several metro Atlanta spas. "I stand here again ... in shock, in horror and grief, and a deep sense of anger about what is happening in our country in the area of gun violence and death."
Early Wednesday evening, the U.S. Marshals Service confirmed Deion Patterson, 24, had been apprehended in connection with the shooting.
Warnock said his two small children were on school lockdowns while police searched for suspect Deion Patterson throughout midtown.
"This shooting is ironic and deeply unsetting," Warnock said. "None of us are safe, no matter where we are."
The shooting happened at a medical facility on West Peachtree Street. "This happened in a medical facility where people are trying to find healing," Warnock said. "Tragically we act as this is routine. We behave as though this is normal. It is not normal. It's not right to live in a nation where none of us are safe, no matter where we are.
"Still, we have done so very little in this building to respond. I'm pleading, I'm begging all of my colleagues on both sides of the aisle to remember the covenant we have with the American people. We owe it to the people who sent us here."
Sen. Ossoff is monitoring the active shooter situation in Midtown, Atlanta. Georgians should continue to heed instructions from local officials and await further information from @Atlanta_Police.

— Ossoff's Office (@SenOssoff) May 3, 2023
A Bloomberg reporter quoted the White House press office as saying both Biden and Harris were aware of the situation.
Late Wednesday afternoon, U.S. Sen. Jon Ossoff issued this statement:
"Today's horrific attack at Northside Medical Midtown is an attack on all Georgians. I send my condolences to the family of the deceased, and I pray for the health of those wounded, their families, and all who witnessed such a terrible event.
"I thank all first responders, officers, deputies, and Federal agents who responded to the scene and who are now working to apprehend the suspect.
"The level of gun violence in America today is unconscionable and unacceptable, and policymakers at all levels have a responsibility to ensure public safety and implement long-overdue reforms."
This is an active investigation. Don't forget to download our Atlanta News First app for the most up-to-date information.
Copyright 2023 WANF. All rights reserved.