ATLVault: May 8, 1886, the day Coca-Cola was first served
The world's most iconic brand was first served in Atlanta, 137 years ago.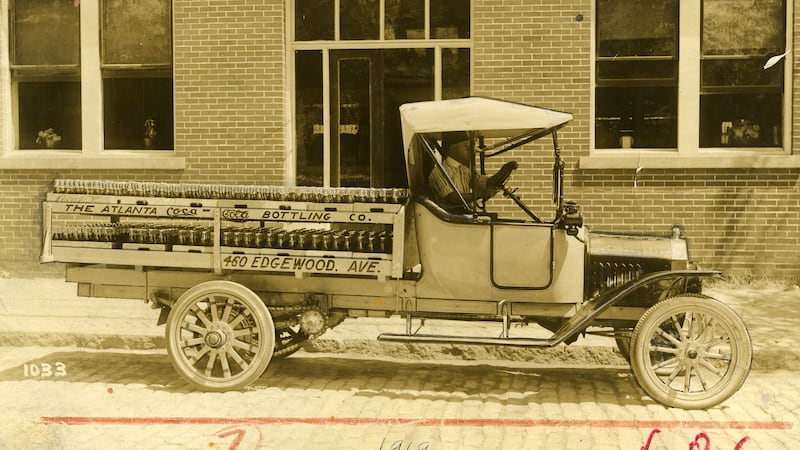 Published: May. 8, 2023 at 12:06 PM EDT
|
Updated: May. 8, 2023 at 1:15 PM EDT
ATLANTA, Ga. (Atlanta News First) - Dr. John Stith Pemberton never really knew what he had. Otherwise, he probably wouldn't have sold his interests in a product that would become the world's most iconic brand.
Pemberton, a former Confederate officer, was wounded in battle during the Civil War, and became addicted to the painkiller morphine. In attempting to cure his addiction, he experimented with other narcotics, including cocaine, at a time when it wasn't a controlled substance, according to Atlanta History Center archives.
On May 8, 1886, the pharmacist produced the syrup for what would become Coca-Cola, and carried a jug of the new product down the street to Jacobs' Pharmacy.
Dr. Joseph Jacobs opened Jacobs' Pharmaceutical Laboratory in Athens in 1879. In 1884, Jacobs moved to Atlanta and opened Jacobs' Pharmacy Company, which would eventually grow to 16 locations.
Jacobs rented out his pharmacy's soda fountain to Willis Venable. On May 8, 1886, Jacobs asked Venable to add water to Pemberton's tonic. Instead of regular water, Venable added carbonated water, and the first Coca-Cola was served for five cents a glass as a soda fountain drink. During the first year, sales averaged a nine drinks per day.
Though he owned partial rights to the newfound tonic, Jacobs said he did not want to be "bothered with it," and sold his rights to Coca-Cola to Asa G. Candler in exchange for a glass factory Candler owned.
"After disposing of my Coca-Cola stock to Mr. Candler, I never owned any more of it, which evidences my poor judgment," Jacobs wrote in 1929.
Despite the historical significance, Jacobs original pharmacy was demolished decades ago.
Candler signed on as an investor in one-third of the Coca-Cola brand in 1887 and persuaded Pemberton to sell the formula for $2,300. Candler sold the brand to a group of investors in 1919, a date that could be considered the start of the modern Coca-Cola company.
Candler took control of the company and ran it until 1916. It was under his leadership that the company began to bottle Coca-Cola.
Robert E. Hope is a veteran of the public relations and event marketing business. He is co-owner and president of Hope-Beckham, an independent agency based in Atlanta. He started working for the Atlanta Braves while in college and became the team's director of public relations and promotions at age 24. He managed the Major League Baseball All-Star Game at age 25. And he was with Hank Aaron during the chase to break the all-time home run record of Babe Ruth.
When Ted Turner bought the team, Hope was promoted to vice president at age 29 and worked not only for the Braves but also the Turner-owned Atlanta Hawks and for Turner's TV station, handling marketing for the Braves and the TV station.
Hope left Turner to work on sports, particularly the Olympics, for The Coca-Cola Company and then decided to go into the public relations agency business so he could work for both Coke and Turner, which led to a career in New York in a top job of the world's largest public relations firm.
ATLVault is a digital series of articles and podcasts that bring Atlanta's history to life.
Copyright 2023 WANF. All rights reserved.