Jansen has game-winning hit, Blue Jays rally to sweep Braves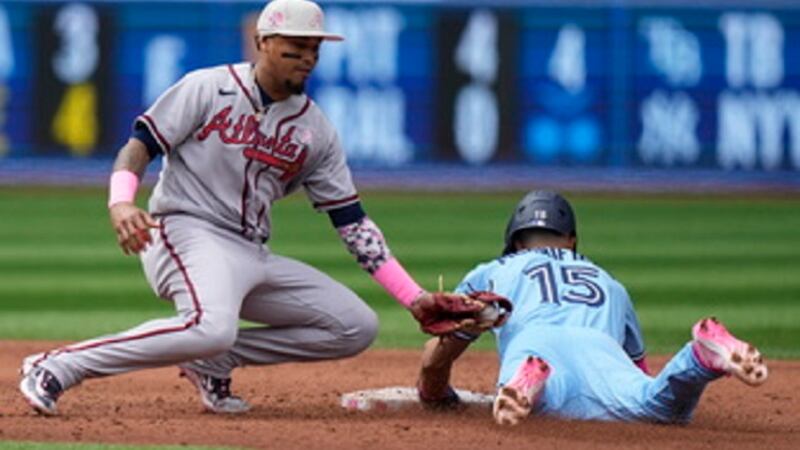 Published: May. 15, 2023 at 6:58 AM EDT
TORONTO (AP) — Danny Jansen hit a two-run single in the ninth inning and the Toronto Blue Jays rallied to beat the Atlanta Braves 6-5 on Sunday to complete a three-game sweep.
George Springer hit a solo home run for the Blue Jays, who are 12-3 at home this season.
"This team's resilient," Jansen said. "We're looking to win every game, and we believe that we can with the bats and the staff we have."
With Toronto trailing 5-4, Vladimir Guerrero thought he tied the game to begin the ninth, pumping his fist as he watched his deep drive to right, but Guerrero was held to a single when the ball hit the wall.
The Blue Jays loaded the bases with two outs before Jansen singled to left field off Raisel Iglesias (1-1), driving in Guerrero and Matt Chapman.
"We had an opportunity to win the game and we couldn't close the deal," Braves manager Brian Snitker said. "It's frustrating, but this game is frustrating."
The Braves have lost four straight and five of eight.
"Tough one to swallow," Atlanta's Austin Riley said.
Nate Pearson (1-0) worked one inning for the win.
Ozzie Albies hit a two-run home run, and Ronald Acuña Jr. and Kevin Pillar each added solo blasts for Atlanta, which has lost nine straight against Toronto.
"Winning against a team like that three games in a row is really hard," Blue Jays manager John Schneider said.
The Braves made three errors and the Blue Jays had two defensive miscues, both by Gold Glove third baseman Chapman. Toronto pitchers also made a pair of wild pitches.
Snitker said he didn't realize how windy it was on the field with the roof at Rogers Centre open until he came out to replace right-hander Collin McHugh in the second.
Pillar, who played with Toronto from 2013 until 2019, agreed that the conditions were "difficult" Sunday.
"You don't feel a lot of the wind at ground level, it's kind of up higher when those balls get up there," Pillar said. "The ball was moving all over the place."
Acuña homered on left-hander Yusei Kikuchi's third pitch of the game, the 28th leadoff homer of his career, and Michael Harris II made it 2-0 with an RBI single in the second.
Toronto responded with three runs in the bottom of the second. Brandon Belt hit an RBI single and Guerrero's base hit drove in a pair of runs.
Albies connected in the third, his 10th homer of the season.
Pillar made it 5-3 in the fourth when he homered against his former team, his fourth of the season, but Springer cut the Blue Jays' deficit to one when he answered in the bottom half with a solo drive to left, his fifth.
McHugh made his first start of the season for Atlanta. He gave up three runs and six hits in 1 2/3 innings.
Kikuchi allowed five runs, four earned, and nine hits in 4-plus innings.
WELCOME BACK
Pillar got a standing ovation before he batted in the second, his first at bat of the series and first appearance in Toronto since April 24, 2019, with San Francisco.
"It's definitely really special to come back that many years later and to be remembered and to be appreciated," Pillar said. "It was overwhelming."
TABLE SETTER
Acuña reached base four times and scored twice. He leads the NL in hits (54), total bases (90), runs scored (36), stolen bases (17).
UP NEXT
Braves: RHP Charlie Morton (4-3, 3.32) starts Monday when Atlanta begins a three-game series at Texas. The Rangers have not named a starter.
Blue Jays: RHP Alek Manoah (1-3, 4.83) starts Monday when Toronto hosts the New York Yankees for a four-game series. New York has not named a starter.
Copyright 2023 The Associated Press. All rights reserved.