Mostly-blue Fulton County has a new elections chair after Republican appointee withdraws name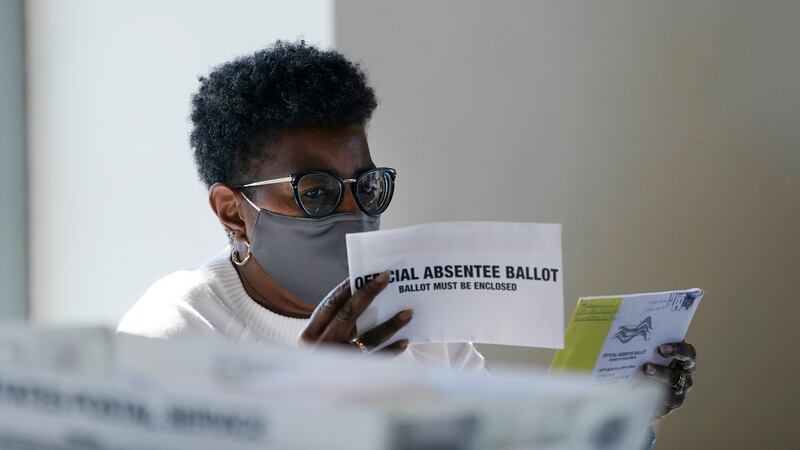 Published: May. 17, 2023 at 6:06 PM EDT
ATLANTA, Ga. (Atlanta News First) - In a day-of change up, a Democrat – not a Republican appointee as originally thought – will lead elections in the state's largest Democratic stronghold.
An open chairman seat on the Fulton County Board of Elections was set to be filled by Lee Morris, a former Republican county and Atlanta city commissioner. He was asked to fill the role by two of the commission's Democrat members and originally accepted.
But on Wednesday, Commission Chairman Robb Pitts read aloud Morris' withdrawal letter to cheers from the mostly-Democratic crowd of citizens.
"I didn't seek this, position, I was asked to do it," said Morris, sitting down with Atlanta News First at his home Wednesday. "I just think they thought that I would do a good job and be fair."
But during Wednesday's public comment session, voters expressed concern over the nomination of a Republican to lead the mostly-blue county's elections. Many noted Morris' opposition to the John Lewis Voting Rights Act, and his support of the state's Election Integrity Act, which restricted absentee voting. More than 73% of Fulton County voters cast a ballot for President Joe Biden in the 2020 election and many were concerned that Morris might try to restrict access to the ballot box, a claim he and many at the meeting denied.
"Lee Morris is a good, decent man of integrity," said Fulton County Commissioner Bob Ellis. "He's done nothing to restrict access to the ballot."
"So many Democrats think that if you have an "R" next to your name, you must be wicked and so many Republicans think that if there's a "D" next to your name, you must be wicked, and I've never thought that way," he said.
"I thought, you know, last thing I want to do is create more divisiveness in this hyper-partisan world we live in," Morris went on. "Hyper-partisanship has been so destructive to this country and to this state and quite frankly to the county. So I thought it'd be better if I asked Robb to withdraw my name."
Morris' withdrawal came as a shock to some members of the commission who said they were taken completely off guard. Morris admits it was last minute, noting he had even received a letter from Georgia Secretary of State Brad Raffensperger congratulating him on his new position as chair.
Morris was swiftly replaced by Patrice Perkins-Hooker, an attorney who currently handles some cases for the Fulton County Board of Elections. Even the commission's legal counsel seemed caught off-guard when questioned about who would take over Perkins-Hooker's cases when she assumes her new role.
"The concern of the community, from what I understand listening to today's presentation, is that they wanted someone to reflect what was indicative of who was in the majority of the Fulton County voters," she said. "I don't envision this being a tremendous change in how we're going to operate. I'm not going in there with a Democratic "D" on my chest, I'm going in with a "C" as in chairman and we're going to work through and make certain what happens is the right thing for people in Fulton County."
Perkins-Hooker will immediately have to quell relations with the State Board of Elections, which is still considering a takeover of the Fulton County Board of Elections after what the state said was a poor performance in 2020 that saw long lines, and equipment malfunctions. However, several audits have shown no impactful issues with the way the county runs its elections.
"We haven't been sanctioned, penalized, and vilified by any of the reports that have been released by them on the operations of the Fulton County Board of Elections," said Perkins-Hooker, "and I do plan on continuing to work with them."
There was a prevailing thought that appointing Morris – a Republican – might be a move to smooth out relations between the state and county boards. But Morris said what's done is done – he simply wants people to know, as does Perkins-Hooker who is a longtime friend of Morris' that he is not an election denier.
"I'm not an election denier, I've never been an election denier," he said.
Copyright 2023 WANF. All rights reserved.