UGA football player arrested, charged with reckless driving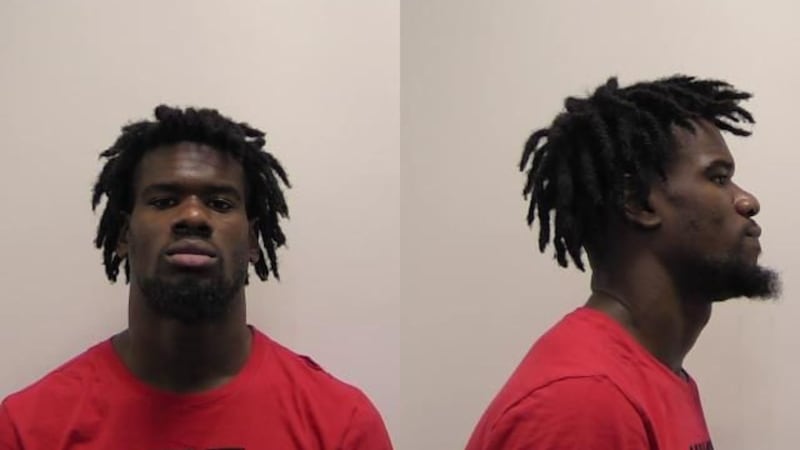 Published: May. 23, 2023 at 10:55 PM EDT
|
Updated: May. 24, 2023 at 2:31 PM EDT
ATLANTA, Ga. (Atlanta News First) - A University of Georgia football player was arrested on Tuesday afternoon and faces multiple charges including reckless driving and speeding, according to Athens-Clarke County jail records.
According to an Athens-Clarke County police officer he was doing speed detection on Atlanta Hwy when he noticed a black Dodge Charger driving at a high speed.
He said clocked the vehicle going 90 miles per hour in a 45 miles per hour zone using his speed gun. The officer also said he saw the driver weaving through traffic while going at a high speed and once he caught up with them he pulled them over.
When he pulled them over is when he identified the driver as Marcus Rosemy-Jacksaint. He asked Rosemary-Jacksaint to get out of the car and told him he was placing him under arrest for speeding and reckless driving.
The officer said he released the vehicle to a friend that was in the car and took Rosemary-Jacksaint to Clarke County jail.
Rosemary-Jacksaint was released within an hour after being charged with the two misdemeanors, according to jail records.
The senior had 29 receptions for 337 yards and two touchdowns during the 2022 season.
He is the fourth UGA player or former player who has been arrested in the past several months. The UGA football team has experienced adversity and off-the-field issues as well.
In late February, Jamon Dumas-Johnson was arrested and charged with reckless driving and street racing. Jan. 23, Georgia transfer wide receiver RaRa Thomas was arrested in Athens after a domestic violence incident. He was charged with misdemeanor family battery and felony false imprisonment.
On Jan. 29, former standout quarterback Bennett was arrested in Dallas, Texas, and charged with public intoxication.
In March, Georgia defensive lineman Jalen Carter turned himself in at Athens-Clarke County Jail after being wanted for misdemeanor charges of reckless driving and street racing in connection to a deadly crash in Athens on Jan. 15.
RELATED: Family files $40 million lawsuit in crash that killed UGA player, staffer
Former University of Georgia football player Devin Willock and former staff member Chandler LeCroy were both killed in the crash only hours after UGA's national football championship parade in Athens after UGA won back-to-back titles.
Willock's attorneys claim prospective football recruits were at the Athens strip club on the night of the crash and that LeCroy was served alcohol at UGA events while assigned to drive recruits and families around.
According to the lawsuit, Carter was named a "Sarchione Athlete" as part of his NIL deal. In exchange, Sarchione Auto Group gave Carter a Jeep Trackhawk in September 2022. This is the vehicle in which Carter is alleged to be street racing another vehicle driven by Chandler LeCroy on Jan. 15, 2023.
The subsequent crash killed LeCroy, a 24-year-old UGA football staffer, and UGA football player Devin Willock, 20. LeCroy was driving a 2021 Ford Expedition that belonged to the university. LeCroy's blood alcohol level was twice the legal limit as she was traveling 104 miles per hour just before the crash, according to police records.
The Dawgs dominated the Horned Frogs 65-7 at So-Fi Stadium in the metro Los Angeles area in January 2023 and became the first team to win consecutive national championships since Alabama did during the 2011 and 2012 seasons.
RELATED:
Copyright 2023 WANF. All rights reserved.