Doctor's supporters, hospital system at odds with Indiana penalty for talking about 10-year-old's abortion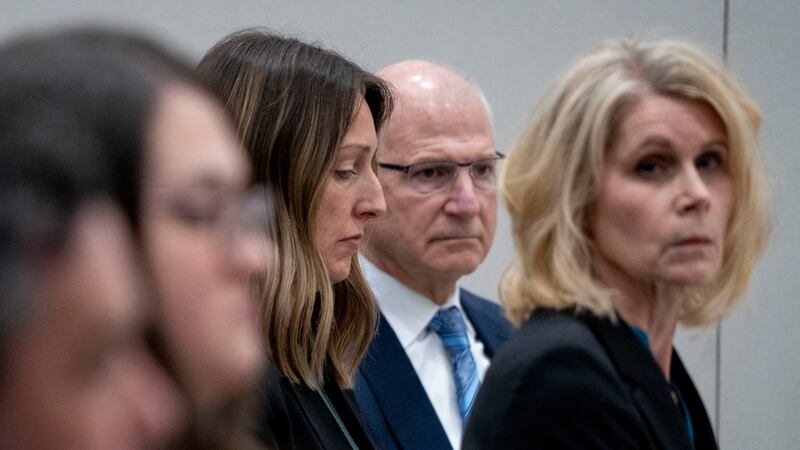 Published: May. 26, 2023 at 4:41 PM EDT
INDIANAPOLIS (AP) — Supporters of an Indianapolis doctor voiced frustration Friday with the Indiana medical board's decision that she violated patient privacy laws when she talked with a newspaper reporter about providing an abortion to a 10-year-old Ohio rape victim.
The board's vote late Thursday to issue a letter of reprimand against Dr. Caitlin Bernard won't limit her ability to practice medicine in the state, and the hospital system where she works said it stood by its finding that she followed privacy rules. The medical board rejected allegations that Bernard failed to properly report suspected child abuse and was unfit to have a medical license.
Some of Bernard's colleagues criticized the Medical Licensing Board's vote and the state attorney general's pursuit of disciplinary action against her as trying to intimidate doctors in Indiana, where the Republican-dominated Legislature enacted an abortion ban last year that courts have put on hold.
Bernard's revelation of the girl traveling to Indiana to receive abortion drugs turned her case into a flashpoint in the national abortion debate days after the U.S. Supreme Court overturned Roe v. Wade last summer. Some news outlets and Republican politicians falsely suggested Bernard fabricated the story until a 27-year-old man was charged with the rape in Columbus, Ohio. During an event at the White House, President Joe Biden nearly shouted his outrage over the case.
Republican Attorney General Todd Rokita, who is stridently anti-abortion, touted the board's decision as supporting his arguments that Bernard broke "the trust between the doctor and patient."
The board's vote to reprimand Bernard and fine her $3,000 was far short of the medical license suspension that Rokita's office asked the panel to impose.
Bernard's lawyers argued Thursday that officials at Indiana University Health, her employer and the state's largest hospital system, had reviewed last summer what she said about the girl's treatment and found no violation of the federal Health Insurance Portability and Accountability Act.
IU Health said in a Friday statement that it was pleased Bernard would remain among its doctors.
"We do not agree with the board's decision regarding patient privacy regulations and stand by the HIPAA risk assessment," the hospital system said. "We believe Dr. Bernard was compliant with privacy laws."
A request for an interview with Bernard was declined Friday by a spokeswoman for her attorneys.
Bernard's lawyers didn't say Friday whether they would appeal the board decision in the state court system. They issued a statement questioning the board's reprimand vote for not specifying what protected health information she wrongly revealed.
"While we wholeheartedly disagree with the letter of reprimand on privacy issues, we are proud of Dr. Bernard for standing up for access to compassionate medical care and for her consummate professionalism during these unprecedented proceedings," her lead attorney, Alice Morical, said.
Bernard has consistently defended her actions. She testified Thursday that she believed it was important to use "real-world impacts" of anti-abortion laws and that she didn't expect so many doubts over her account of such a young girl becoming pregnant.
"The idea that this was something that someone would make up or was a lie or is something that doesn't happen was very surprising to me," Bernard said.
Witnesses and lawyers for the attorney general's office maintained during the licensing hearing that it was the combination of Bernard telling an Indianapolis Star reporter about the girl's age and home state, that she was past Ohio's then-six-week limit for an abortion and that the procedure would happen in the coming days that created a violation of patient privacy laws.
Dr. Tracey Wilkinson, a pediatrician who works with Bernard at IU Health, attended the board hearing in support of Bernard and called her case "political persecution" that should worry doctors.
"I think it's incredibly unfortunate as the intimidation of Dr. Bernard sends a message that this can happen to any physician that's providing comprehensive evidence-based health care to their patients," Wilkinson said.
Anti-abortion groups called on Indiana hospitals to reconsider whether to keep doctors who provide abortions on their staff.
"Dr. Bernard readily and willingly put her patient -- who was not consulted or willing -- into the public light for her own agenda," said Marc Tuttle, the president of Right to Life of Indianapolis.
The medical board members — five doctors and one attorney appointed or reappointed by Republican Gov. Eric Holcomb — rejected separate allegations that Bernard violated state law by not reporting the child abuse to Indiana authorities. Bernard and IU Health officials testified that she followed Indiana's reporting requirements and hospital policy by notifying hospital social workers about the child abuse — and that the girl's rape was already being investigated by Ohio authorities.
The board's split decision on the Bernard allegations left no clear winner in the case, said Laura Iosue, a lawyer who led medical licensing investigations at the state attorney general's office for seven years until 2020. The vote will lead to doctors watching more closely what they talk about, she said.
"Everybody's going to be a little more cautious," Iosue said. "I think everybody's going to have their antennae up now, based on this decision."
Copyright 2023 The Associated Press. All rights reserved.