"It was nightmare scene": Multiple people injured after deck collapses in Midway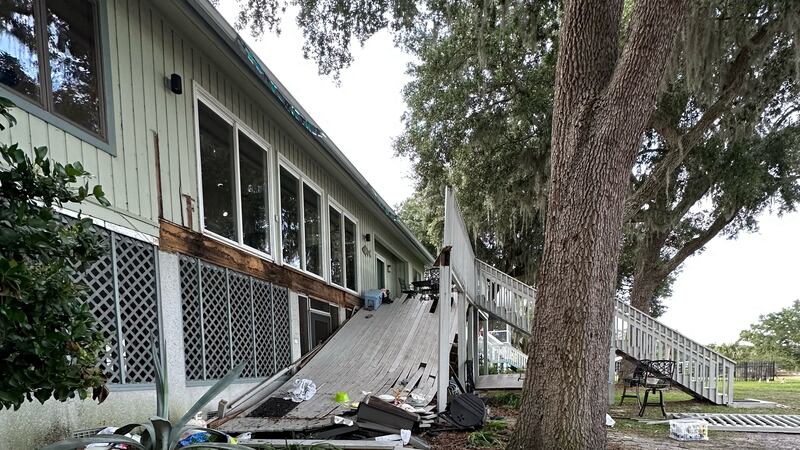 Published: May. 28, 2023 at 8:49 PM EDT
|
Updated: May. 29, 2023 at 6:18 PM EDT
MIDWAY, Ga. (WTOC) - Nine people are injured after a deck collapsed Sunday evening in Midway.
According to Liberty County Fire Services Chief Brian Darby, they were called to the 300 block of Cattle Hammock Road after 6:30 p.m. Sunday.
Marc Barnett and his family rent a vacation home on the coast every year around this time.
"My father was turning 70 years old and we wanted to have a couple of family member to have a food and fellowship to celebrate him."
What was supposed to be a happy birthday celebration turned into a traumatic experience for this family as he says about 12 to 15 of them were on top this deck when it gave in and the damage behind me is apparent. He says the people who were injured range from 1 to 90-years-old.
"You had a feeling of freefall. We all just landed in a pile on top of each other. It was nightmare scene to see a heap of people laying there helpless," said Barnett.
But help did arrive. Liberty County Fire Chief Brian Darby says several agencies responded. Barnett says they arrived in minutes and nine people were taken to the hospital. He says neighbors including a volunteer firefighter helped them out of a scary moment. Neighbors say they were happy to help.
"Thank God for them. They were a blessing to us."
Barnett says his family members have fractures and cuts. One person is in the ICU recovering. While they have a recovery ahead, Barnett says he's grateful they're alive and without severe injuries.
"If somebody had been underneath this deck instead of on top of it we would probably be planning a funeral right now so we feel very blessed for that."
The home is managed by Salt Crest Vacation Rentals. Barnett says they've been supportive during this time and plan to stay in contact with his family.
"We have a couple of family members that served in the military that have actually suffered from PTSD in the past that were very shaken to see so many people laying around injured, in need of immediate trauma care and it's something I think is probably going to stay with us for quite some time," said Barnett.
EMS units from Liberty, McIntosh, and Bryan Counties, along with Fort Stewart all responded to the scene.
Copyright 2023 WTOC. All rights reserved.