Jimmy and Rosalynn Carter's lifelong love affair
The couple married on July 7, 1946.
Published: May. 30, 2023 at 1:43 PM EDT
|
Updated: Nov. 19, 2023 at 5:20 PM EST
ATLANTA, Ga. (Atlanta News First) - The longest-married presidential couple in history grew up together in their small hometown of Plains, Georgia.
The union between Jimmy and Rosalynn Carter lasted more than seven decades. The former First Lady passed away on Nov. 19, 2023, at the couple's home in Plains, Georgia.
In February 2023, the nation's 39th president announced he was entering hospice care. Weeks later, the Carter Center announced the former First Lady is experiencing dementia. Only days before her death, Rosalynn Carter entered hospice care.
The couple married on July 7, 1946. Rosalynn Carter graduated Georgia Southwestern College that year as well. After moving around the country on military assignment, the couple returned to Plains to run the family peanut farm, where they raised four children.
Carter was elected governor in 1970.
The couple also had 12 grandchildren (one deceased) and 14 great-grandchildren.
In 1991, Rosalynn Carter, along with Betty Bumpers, wife of former U.S. Senator Dale Bumpers of Arkansas, a program called Vaccinate Your Family, a nationwide campaign to protect children from vaccine-preventable diseases by raising awareness of the critical need for timely infant immunizations.
She also worked with Habitat for Humanity, participating in the annual weeklong Jimmy and Rosalynn Carter Work Project that in 1984 began building homes for the needy, and 3Keys (formerly Project Interconnections), a public/private nonprofit partnership to provide housing for homeless people living with mental illnesses.
Rosalynn Carter served as distinguished centennial lecturer at Agnes Scott College in Decatur, Georgia, from 1988-1992 and as distinguished fellow at the Emory University Department of Women's Studies in Atlanta, from 1990-2018.
Rosalynn Carter, like the former president himself, is also a prolific author, having written five books, including her autobiography, "First Lady from Plains."
During their time as first couple, Rosalynn Carter supported her husband's work, something she did until his last day in office.
"He's a good father, a good grandfather and a good great grandfather. And I'm proud of him," she once said. "I'm proud he stands for human rights and peace all over the world."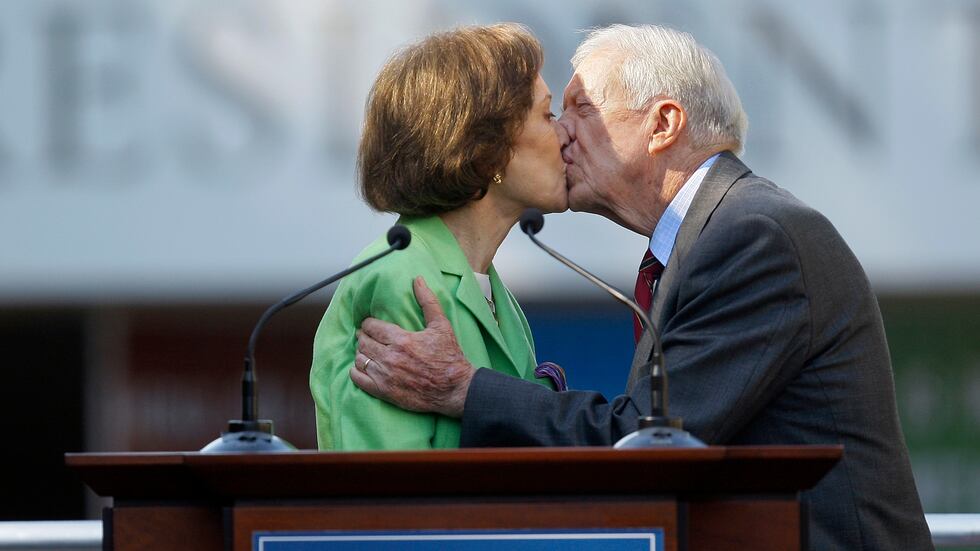 For decades the couple traveled the world trying to change it for the better. Later, President Carter published another book "A Full Life: Reflections at 90″. Inside, a portrait he painted of his life-long love, along with the dedication to her, "To Rosalynn, who has kept my life full of love."
The former president himself once said, "The best thing I ever did was marry Rosalynn. I think I have been blessed as any human being in the world."
Atlanta News First and Atlanta News First+ provide you with the latest news, headlines and insights as we look at the life and accomplishments of Georgia's favorite son. Download our Atlanta News First app for the latest political news and information.
Copyright 2022 WGCL. All rights reserved.