A third day of smoky air gives millions in US East Coast, Canada a new view of wildfire threat
Published: Jun. 8, 2023 at 6:51 AM EDT
|
Updated: Jun. 8, 2023 at 10:04 PM EDT
NEW YORK (AP) — Images of smoke obscuring the New York skyline and the Washington Monument this week have given the world a new picture of the perils of wildfire, far from where blazes regularly turn skies into hazardous haze.
A third day of unhealthy air from Canadian wildfires may have been an unnerving novelty for millions of people on the U.S. East Coast, but it was a reminder of conditions routinely troubling the country's West — and a wake-up call about the future, scientists say.
"This is kind of an astounding event" but likely to become more common amid global warming, said Justin Mankin, a Dartmouth College geography professor and climate scientist. "This is something that we, as the eastern side of the country, need to take quite seriously."
Millions of residents could see that for themselves Thursday. The conditions sent asthma sufferers to hospitals, delayed flights, postponed ballgames and even pushed back a White House Pride Month celebration. The fires sent plumes of fine particulate matter as far away as North Carolina and northern Europe and parked clumps of air rated unhealthy or worse over the heavily populated Eastern Seaboard.
At points this week, air quality in places including New York, the nation's most populous city, nearly hit the top of the U.S. Environmental Protection Agency's air-pollution scale. Local officials urged people to stay indoors as much as possible and wear face masks when they venture out.
Such conditions are nothing new — indeed, increasingly frequent — on the U.S. West Coast, where residents were buying masks and air filters even before the coronavirus pandemic and have become accustomed to checking air quality daily in summertime. Since 2017, California has seen eight of its 10 largest wildfires and six of the most destructive.
The hazardous air has sometimes forced children, older adults and people with asthma and other respiratory conditions to stay indoors for weeks at a time. Officials have opened smoke shelters for people who are homeless or who might not have access to clean indoor air.
So what's the big deal about the smoke out East?
"The West has always burned, as has Canada, but what's important now is that we're getting these massive amounts of smoke in a very populated region, so many, many people are getting affected," said Loretta Mickley, the co-leader of Harvard University's Atmospheric Chemistry Modeling Group.
Fueled by an unusually dry and warm period in spring, the Canadian fire season that is just getting started could well become the worst on record. More than 400 blazes burned Thursday. Over a third are in Quebec, where Public Safety Minister François Bonnardel said no rain is expected until next week and temperatures are predicted to rise.
He said there have been no reports of injuries, deaths or home damage so far from the fires, but it remained unclear Thursday when more than 12,000 evacuees from various communities would be able to return. Manon Cyr, mayor of the evacuated town of Chibougamau, said she advised residents to be "Zen and patient. That's the most important."
But, she noted, the real solution will be a good dose of rain.
In neighboring Ontario, a haze hung over Toronto, Canada's most populous city, where many school recess breaks, day care center activities and outdoor recreation programs were canceled or moved inside.
U.S. President Joe Biden said Thursday that hundreds of American firefighters and support personnel have been in Canada since May, and that he'd offered Canadian Prime Minister Justin Trudeau "any additional help Canada needs to rapidly accelerate the effort to put out these fires." The two spoke Wednesday.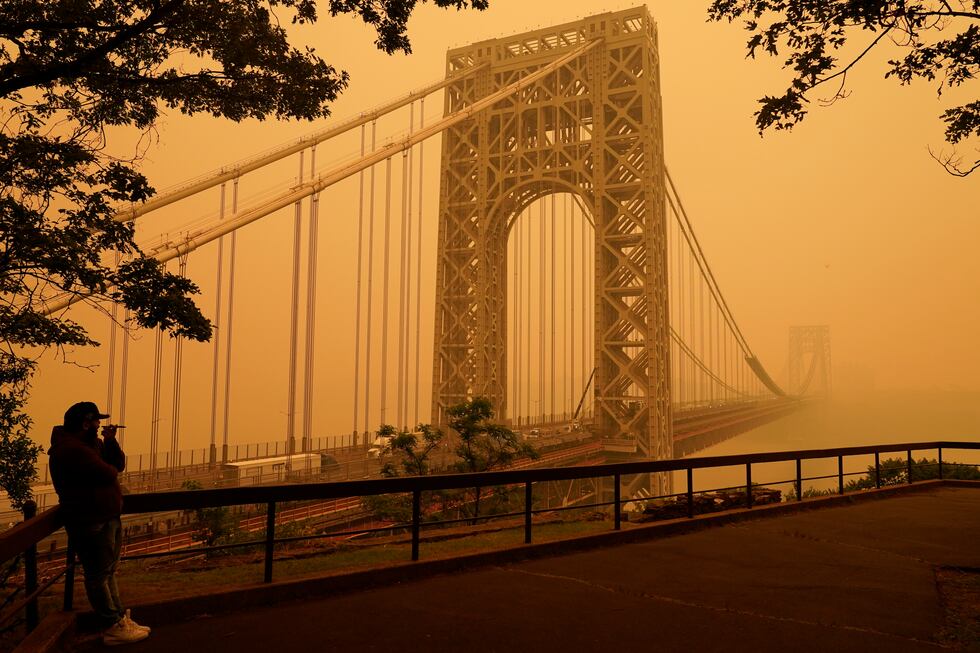 Wildfires aren't the only air-quality problems that beset major population centers around the globe.
In Beijing, for example, decades of sandstorms blowing in from the Mongolian plains have mixed with human-made pollution, sometimes making neighboring buildings invisible to one another. Commuters have even been spotted walking down streets wearing plastic bags over their heads to insulate against particulates.
Many African countries in and near the Sahara Desert, too, regularly grapple with bad air mainly because of sandstorms. Senegal, in particular, has endured years of unsafe levels of air pollution, which is causing asthma and other respiratory diseases, climate experts say.
Chemically, wildfire smoke can be more toxic than typical urban pollution, but with an asterisk: With smog, "the problem is you're in it all the time," says Jonathan Deason, an environmental and energy management professor George Washington University.
In New York City, Health Department spokesperson Pedro Frisneda said emergency rooms were seeing a "higher than usual" number of asthma-related visits from the blanket of smoke, estimating patients were in the "low hundreds."
The city public school system — the nation's largest — said Friday's classes would be conducted remotely, a decision that mostly affected high schoolers because most other pupils already had a scheduled day off. Motorists even got a break Thursday and Friday from having to move their cars for street cleaning.
In Washington, a big Pride Month celebration on the White House's South Lawn was moved from Thursday to Saturday, and a Washington Nationals-Arizona Diamondbacks game was postponed. Local officials closed public parks and suspended some road work.
Philadelphia ended trash collection ended early, for the sake of sanitation employees. Bridgeport, Connecticut's largest city, opened spaces usually used as hot-weather cooling centers so that residents could escape the unhealthy air.
A Chris Stapleton concert at a Syracuse amphitheater was pushed back, fireworks were canceled at Niagara Falls and racing was canceled at New York's Belmont Park two days before the famed Belmont Stakes. It wasn't yet clear whether the Triple Crown race itself might be affected; Gov. Kathy Hochul said that would depend on the air quality at the track Saturday.
And in central Pennsylvania, Country Meadows Retirement Communities temporarily closed walking areas and outdoor courtyards designated for residents in secured memory support units — "they may or may not recognize when they experience respiratory distress," explained company spokesperson Kelly Kuntz. All 2,300 residents of its 10 facilities were asked to cancel outdoor trips and strenuous outdoor activities.
"Bocce is huge," Kuntz said. "No bocce ball until this is done."
___
Gillies reported from Toronto. Associated Press journalists Michael Hill in Albany, New York; Ashraf Khalil and Seung Min Kim in Washington; Gene Johnson in Seattle; Sam Mednick in Dakar, Senegal; Olga R. Rodriguez in San Francisco; Mark Scolforo in Harrisburg, Pennsylvania; Ted Anthony in New York; and Shelley Adler in Fairfax, Virginia, contributed to this report.
Copyright 2023 The Associated Press. All rights reserved.