Social media, duct tape are helping people make DIY air purifiers to filter out wildfire smoke
Published: Jun. 9, 2023 at 12:13 AM EDT
NEW YORK (AP) — Social media users are sharing a surprisingly effective way to protect yourself indoors from the toxic wildfire smoke blanketing much of the East Coast: a box fan, four air filters and a whole lot of duct tape.
As searches for "air purifiers" spike on Google, people are posting on TikTok and Facebook about how to build the DIY air purifier. The technique, known as the Corsi-Rosenthal method, has gained attention in recent years amid the pandemic and raging western U.S. wildfires.
Some East Coast residents are learning about the box fan method for the first time, unlike their West Coast counterparts who are accustomed to wildfire smoke.
Seattle resident Angel Robertson, 34, posted a video on a New Yorker's TikTok demonstrating how to put it together. In her video, which has amassed more than 600,000 views, Robertson duct tapes four 20-by-20 air filters into a box shape and attaches the fan on top. The whole apparatus costs under $100.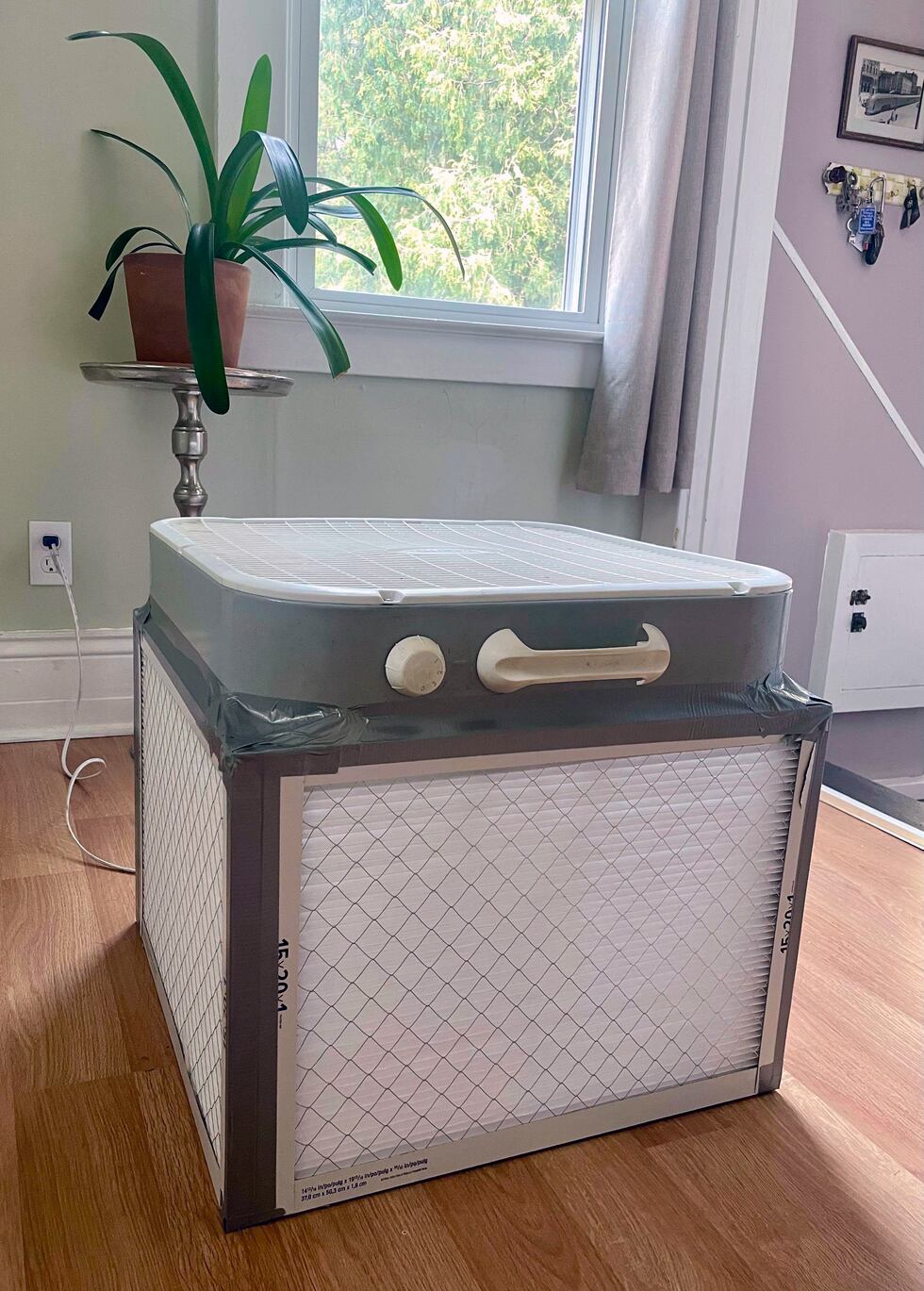 "It works extremely well and will save your life with really smoky days," she says in the video. "It does a lot better than the normal air filters."
Public health experts say Corsi-Rosenthal purifiers are highly effective at removing particles from the air. Petri Kalliomäki, a postdoctoral researcher at the University of Maryland's School of Public Health, said their clean air delivery rate is relatively high and can be used to purify air against not only smoke, but pollen and viruses.
At the University of Connecticut Thursday, Misti Levy Zamora, an assistant professor in public health sciences, and her colleagues were handing out Corsi-Rosenthal purifiers for free to anyone stopping by. Zamora said she has done several tests at the university, public schools and her own home on the purifier.
"I can confidently say this thing is working really well today," she said. "I was able to filter out all the particles in the air basically back down to what I saw last week within a matter of minutes."
The power of social media led to the invention of the box, co-inventor Richard Corsi, dean of the College of Engineering at the University of California at Davis, told The Associated Press. He said in 2020, he was sketching one night and put the design up on Twitter. Jim Rosenthal, CEO of Tex-Air Filters, took the design and built it. Corsi said he wanted to create an inexpensive purifier that the average American could afford. He's now hearing from friends in the Northeast who are using his idea.
"When you have to seal up a building and reduce the amount of air flow coming in and when you have to spend a lot of time indoors, this is where portable air cleaners can really make a difference in your life," he said.
Grace Turner, 31, built her box fan purifier for her home in Rochester, New York, after picking up the trick from living in Salt Lake City. She shared her DIY box on TikTok where she said the air purifier has made a difference in her home.
"There are a bunch of different designs people can choose from, and it's really accessible to find the info," she said of the DIY instructions online.
Liz Hradil, 27, who lives in Syracuse, New York, said the smoke burned her eyes, and she could feel the smoke in her nose and throat as the smoke descended onto New York this week. She went digging around online to buy an air purifier when she came across the Corsi-Rosenthal box and went to Lowe's to pick up the filters and fan. She then immediately noticed that the smoke smell was gone after about 30 minutes of starting her purifier.
"It was my first time, and my New York friends were like this is so genius," she said after sharing the photo of the box online. "No one had heard of it."
Copyright 2023 The Associated Press. All rights reserved.