Tropical Storm Bret spins toward eastern Caribbean as forecasters warn of heavy rainfall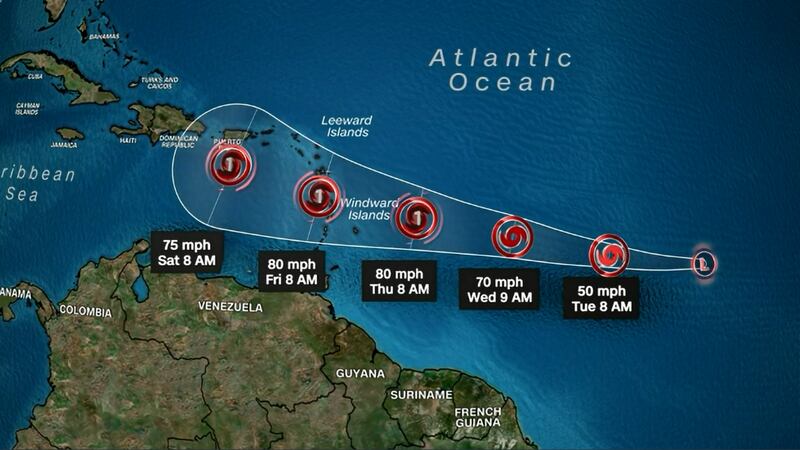 Published: Jun. 20, 2023 at 7:43 AM EDT
|
Updated: Jun. 21, 2023 at 12:14 AM EDT
SAN JUAN, Puerto Rico (AP) — Tropical Storm Bret chugged toward the eastern Caribbean on Tuesday as the region prepared itself for an unusually early storm and the torrential rains that are forecast.
Bret had maximum sustained winds of 50 mph (85 kph) late Tuesday night and was moving westward across the Atlantic Ocean at 17 mph (28 kph), according to the National Hurricane Center in Miami, which warned that it's been unable to get "a better handle on the system's intensity and size."
The storm was located some 730 miles (1,170 kilometers) east of the Windward Islands and is expected to pummel some eastern Caribbean islands on Thursday at near hurricane strength. A tropical storm watch was issued for Barbados, St. Lucia, Martinique and Dominica, where the meteorological service said Tuesday that the storm poses a "high threat" to the island and warned of landslides, flooding and waves of up to 12 feet (4 meters).
"Landslides are highly likely as we are coming out of a relatively dry period where grounds may be compromised or developed cracks," said Fitzroy Pascal with Dominica's Office of Disaster Management.
Meanwhile, the hurricane center urged people in the Lesser Antilles, Puerto Rico and the Virgin Islands to closely monitor the storm and have their hurricane plans in place.
"Given the uncertainty in the track and intensity forecasts, it is too early to specify the location and magnitude of where Bret's associated hazards could occur," the center said.
Up to 10 inches (25 centimeters) of rain were forecast from the French Caribbean island of Guadeloupe south to St. Lucia, and up to 4 inches (10 centimeters) of rain for Barbados and St. Vincent and the Grenadines.
The government of Guadeloupe warned that inclement weather would start Wednesday evening and continue until late Friday, with waves of up to 10 feet (3 meters).
"Be careful!" officials warned in a statement.
Unfavorable winds and drier air are expected to later weaken Bret as it swirls through the central Caribbean region, with some models showing the storm could dissipate after affecting islands in the eastern Caribbean.
The storm formed Monday — an early and aggressive start to the Atlantic hurricane season that began on June 1. A tropical disturbance with an 80% chance of cyclone formation is trailing Bret. No June on record has had two storms form in the tropical Atlantic, according to meteorologist Philip Klotzbach at Colorado State University.
The National Oceanic and Atmospheric Administration has forecast 12 to 17 named storms for this year's hurricane season. It said between five and nine of those storms could become hurricanes, including up to four major hurricanes of Category 3 or higher.
Virginia Tech meteorologist Stephanie Zick said she expects to see a higher than average number of storms rapidly intensify this season given warmer sea surface temperatures. She also noted that flooding from tropical systems that make landfall has caused the most deaths in the past 10 years.
"The hazards associated with tropical storms can occur hundreds of miles away from the storm center," she said.
Copyright 2023 The Associated Press. All rights reserved.