Tropical Storm Cindy forms behind Bret in an early and aggressive start to Atlantic hurricane season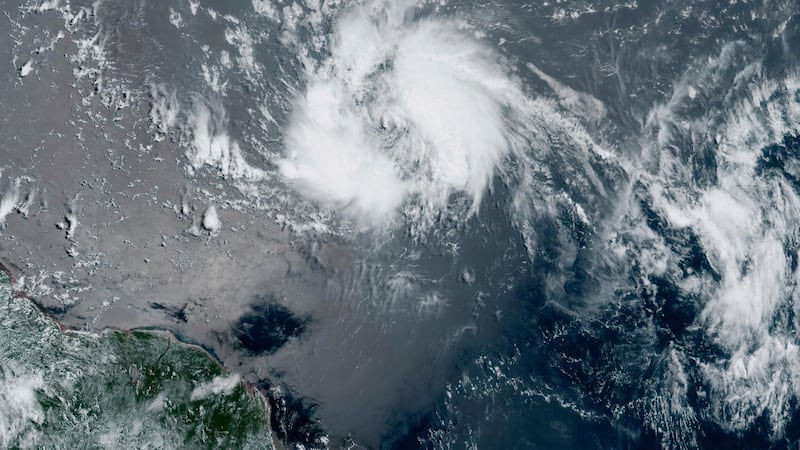 Published: Jun. 23, 2023 at 5:21 AM EDT
|
Updated: Jun. 23, 2023 at 11:28 PM EDT
SAN JUAN, Puerto Rico (AP) — Tropical Storm Cindy formed behind Tropical Storm Bret, in the first case of two storms in the tropical Atlantic in June since record keeping began in 1851, forecasters said Friday.
The historic event signals an early and aggressive start to the Atlantic hurricane season that began June 1 and usually peaks from mid-August to mid-October. Some forecasters blamed unusually high sea temperatures for the rare development.
"The Atlantic is awfully warm this year," said Kerry Emanuel, a meteorologist at the Massachusetts Institute of Technology, adding that it's partly a result of global warming, natural variability and the ocean's recovering from sulfate aerosols pollution that cooled it decades ago.
Studies show that a warmer world is producing wetter and more intense hurricanes, with scientists still trying to figure out if climate change alters how many storms brew. Because of more early and pre-season storms, the National Hurricane Center has started issuing advisories earlier in the year, with experts recently discussing the idea of declaring the start of the hurricane season earlier.
Emanuel noted that in the entire Atlantic Ocean, not just the tropical Atlantic, it's not unusual to have storms in June. It has happened 34 times — including this year — since 1851, he said.
Cindy was forecast to remain a tropical storm while heading to the northeast of the Caribbean into the open waters of the Atlantic, before dissipating early in the coming week.
Bret brought winds, heavy rain and swells of up to 15 feet (4.5 meters) to islands in the eastern Caribbean that had shut down to prepare for potential landslides and flooding with its arrival late Thursday. Officials in the French Caribbean island of Martinique said that they found four people who were aboard a lifeboat after their catamaran sank during the storm and that they were hospitalized.
Power outages were reported in St. Lucia and St. Vincent and the Grenadines, with at least 130 people seeking protection in government shelters as the storm washed away one home and caused severe damage to several others, according to officials.
Ralph Gonsalves, prime minister for St. Vincent and the Grenadines, told NBC Radio, a local station, on Friday that officials were still assessing the damage and helping those in need.
"We will respond, as always, with speed," he said.
Authorities in Barbados said they received more than a dozen reports of damage across the island, according to the Caribbean Disaster Emergency Management Agency.
Bret was moving through the central Caribbean on Friday night, passing to the north of Aruba, Bonaire and Curaco. Forecasters said it was expected to dissipate Saturday night.
Late Friday, Bret's center was about 75 miles (120 kilometers) northeast of Curacao and moving west into open waters at 18 mph (30 kph). Its maximum sustained winds were 50 mph (85 kph).
Cindy's maximum sustained winds were also around 50 mph (85 kph) late Friday. The storm was centered about 735 miles (1,185 kilometers) east of the Lesser Antilles.
The National Oceanic and Atmospheric Administration has forecast 12 to 17 named storms for this year's hurricane season. It said between five and nine of those storms could become hurricanes, including up to four major hurricanes of Category 3 or higher.
Copyright 2023 The Associated Press. All rights reserved.