Trump's 2024 GOP rivals converge on Atlanta just days after his latest indictment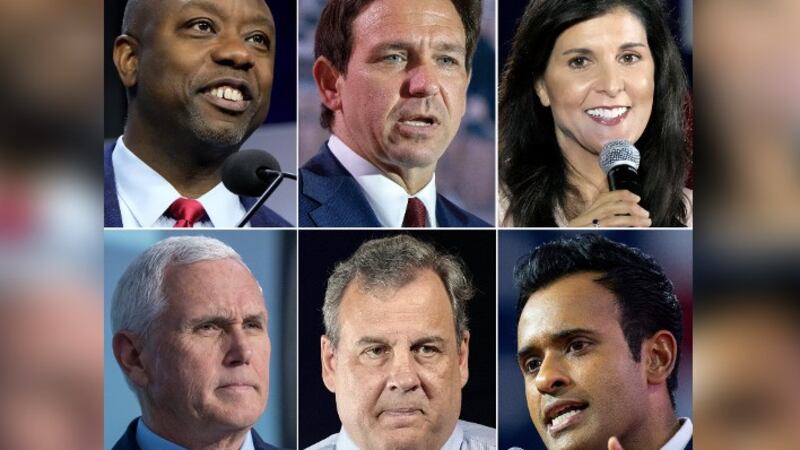 Published: Aug. 18, 2023 at 8:18 AM EDT
|
Updated: Aug. 18, 2023 at 9:22 AM EDT
ATLANTA (AP) — Several Republican White House hopefuls are appearing at a conservative conference with hopes of making up ground against former President Donald Trump.
But his shadow may be especially difficult to escape in the city where he was just indicted — again.
Trump won't speak at The Gathering, an Atlanta event by syndicated radio host Erick Erickson taking place Friday and Saturday about 10 miles from the jail where the former president has to surrender before next Friday on a racketeering indictment related to the 2020 election.
Six of his 2024 rivals, meanwhile, are scheduled for onstage interviews with Erickson, an influential conservative who has been critical of the former president. The timing offers one more example of the struggle facing Trump's rivals: He dominates primary polls and media attention, and four indictments have only seemed to harden his popularity among core Republican voters.
Each candidate will join Erickson for a Q&A, with the host promising a focus on their goals and issues, including artificial intelligence, Christian nationalism in America, and dealing with China as a global U.S. rival.
Florida Gov. Ron DeSantis, former Vice President Mike Pence, South Carolina Sen. Tim Scott and former United Nations ambassador Nikki Haley are set to appear Friday in the Atlanta neighborhood of Buckhead, a Republican-leaning enclave in an otherwise Democratic-dominated city. Former New Jersey Gov. Chris Christie and businessman Vivek Ramaswamy will speak Saturday.
Copyright 2023 The Associated Press. All rights reserved.