See it yourself: MARTA bus driver falls asleep before crash
The driver had minor injuries and can be heard saying, "I was tired." MARTA fired the driver, who'd been on the job less for than a year.
Published: Aug. 29, 2023 at 10:23 AM EDT
|
Updated: Aug. 29, 2023 at 6:19 PM EDT
ATLANTA, Ga. (Atlanta News First) - Interior dashcam video shows the MARTA bus driver who crashed into a utility pole last month falling asleep at the wheel.
The crash happened shortly before 7 p.m. on July 11. Multiple interior dashcams show an empty bus as the driver closed her eyes for eight seconds.
The driver was on Collier Drive in West Atlanta's Collier Heights subdivision when she veered across the two-lane road and knocked a utility pole out of the ground before crashing through a homeowner's front yard.
The driver had minor injuries and can be heard telling someone on her cellphone saying, "I was tired."
MARTA eventually fired the driver, who'd been on the job less for than a year.
The impact knocked out power to the neighborhood and sent a surge through Valerie Walker Jones's house. The surge caused tens of thousands of dollars in electrical damage and forced the Jones's family to move into temporary housing. MARTA is taking responsibility for the repairs.
"I thought the house was about to explode," Jones said.
Jones said the bus driver apologized and admitted she fell asleep. After watching the dashcam video, Jones said, "I cannot help but sympathize and empathize with her situation because I have been in situations where I have driven at times and have been really sleepy and tired."
The Atlanta-based Centers for Disease Control estimates driver fatigue is responsible for 6,000 fatal crashes annually.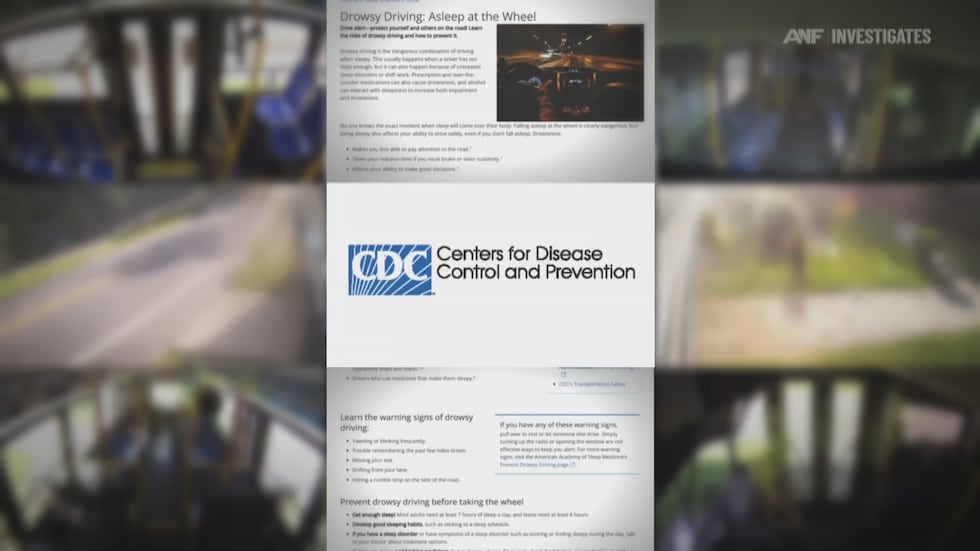 MARTA tested a distracted driver detection pilot program in 2020 but stopped at the beginning of the Covid-19 pandemic. The agency said MARTA is again considering detectors to alert its officials and drivers if they become distracted or fatigued.
LISTEN TO THESE PODCASTS FEATURING THE AWARD-WINNING HARRY SAMLER
If there's something you would like Atlanta News First′s Consumer Investigator Better Call Harry to look into, fill out this submission form.
Copyright 2023 WANF. All rights reserved.