17-year-old suspect in K9 death shot, killed by police, according to Clayton County PD
Published: Sep. 2, 2023 at 8:10 AM EDT
|
Updated: Sep. 2, 2023 at 10:16 PM EDT
ATLANTA, Ga. (Atlanta News First) - An hours-long search ended in a 17-year-old suspect's death after police say he shot and killed a Clayton County police K9 early Saturday morning.
Stephon Ford reportedly refused to put his gun down and was shot and killed by police upon being found, Clayton County Police Department Assistant Chief Bruce Parks said in a press conference. The Georgia Bureau of Investigation is looking into the incident.
"The overall situation is tragic. We hate it," Parks said. "We never want anything like this to happen. We try to use all our training and experience to bring it to an easy resolution, but this is not easy on us. It's not easy on the suspect's family. And it's something that is gonna take a while to get by."
Jonesboro police were originally called to investigate "suspicious activity" at a hotel off Tara Boulevard, Clayton County police said in the conference. They arrested two men who reportedly had drug paraphernalia and weapons, but a third — Ford — was still on the run. One of the arrested men was identified as Nicholas Hart.
Clayton County police were called to assist in finding Ford. A K9 was sent into the woods where Ford was last seen, police said.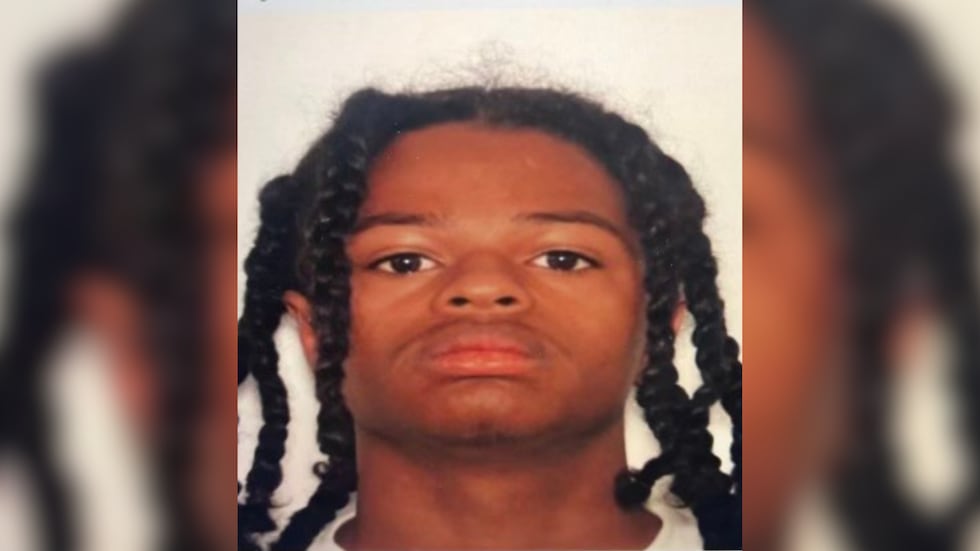 When the dog located the teen, officers told him to surrender. But Ford reportedly shot in the direction of officers with a handgun, hitting the K9, police said.
The K9 was rushed to a local animal hospital but died, according to police. The dog's name was Waro, and he had been with the department for several years, police said.
Police reportedly searched several locations for Ford, including his family's home. When they found the teen, officers told him to put his gun down and shot him several times when he did not comply, police said.
The GBI said that Ford had a handgun in his hand when he was shot, which appeared to have malfunctioned while being fired. It is unclear when the malfunction happened.
Ford reportedly had run-ins with Jonesboro police before. For the K9 incident, he faced charges of aggravated assault on a peace officer, aggravated cruelty to animals and destruction of government property.
The Jonesboro Police Department released the following statement:
In the early morning hours of September 2, 2023, at approximately 1:45am, Jonesboro Police Officers responded to a concerning situation at 8240 Tara Blvd. Three males were observed engaging in suspicious and potentially criminal activity.

Upon approaching the individuals, officers discovered both marijuana and firearms in their possession. The suspects then fled the scene on foot. One of the suspects, identified as Nicholas Hart, was swiftly apprehended at the intersection of Tara Boulevard and Dixon Rd. Hart was subsequently placed into custody without further incident.

Another suspect, identified as Stephon Ford, fled in the direction of West Avenue and was later determined to have entered the wood line behind the residence at 334 West Ave. A collaborative search ensued involving multiple law enforcement agencies. Several hours later, police units continued their search in the West Ave area, observing a ravine in the aforementioned wood line.

Recognizing the need for specialized assistance, the Clayton County Police Department K-9 Unit was requested and responded to aid in the tracking efforts. The Clayton County K-9 units diligently continued their search and ultimately encountered suspect Ford at the rear of 334 West Ave. In a tragic turn of events, Ford discharged a firearm, firing a single shot that proved fatal for Clayton County K-9 Waro.

Chief Tommy L. Henderson III expressed his condolences, stating, "Our hearts go out to the Clayton County Police Department and colleagues of K-9 Waro. His dedicated service to our community will always be remembered. I also want to extend condolences to the family of Stephon Ford. This unfortunate incident is devastating and a tragic loss that will undoubtedly impact the lives of his loved ones."

The Jonesboro Police Department, Clayton County Police Department, and the Georgia Bureau of Investigation (GBI) are actively investigating this incident, and further details will be disclosed as the investigation progresses.

The Department wishes to extend its gratitude to the Clayton County Police Department and all participating agencies for their invaluable assistance during this challenging operation.
Copyright 2023 WANF. All rights reserved.