High School Football: Marietta to face top-ranked Buford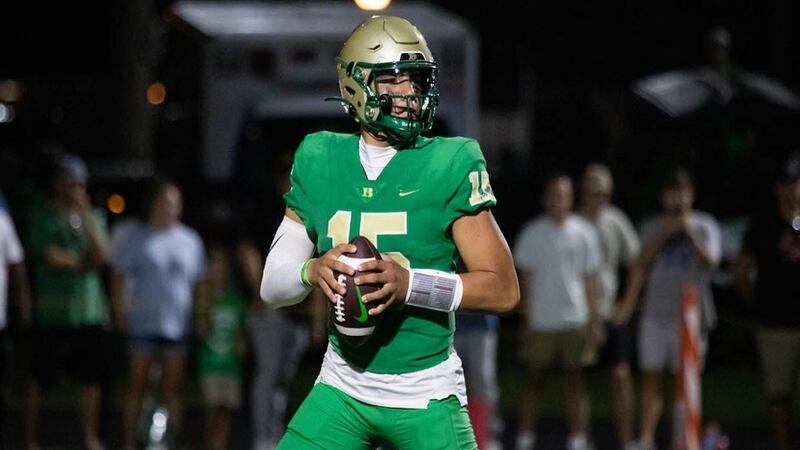 Published: Sep. 22, 2023 at 10:16 AM EDT
|
Updated: Sep. 22, 2023 at 11:16 PM EDT
ATLANTA, Ga. (Atlanta News First) - The Marietta Blue Devils will travel to Buford to face the top-ranked Wolves Friday night.
Despite the two teams having combined to play over 2,000 games, the Wolves and the Blue Devils will meet for just the second time in program history. The Blue Devils are coming into the game after facing a gauntlet in their first four games, playing three ranked teams including 6A No. 6 Roswell and 7A No. 4 Walton, coming out of it with a 1-4 record. The Wolves have also played a very tough schedule, including two ranked out-of-state teams to go along with 3A No. 8 Carver-Atlanta.
On offense, the Wolves have talent second to none. Led by the consensus No. 1 quarterback in the nation and future Georgia Bulldog Dylan Raiola, Buford has the ability to be extremely explosive. With weapons like five-star Florida State-commit KJ Bolden and four-star running back Justin Baker, they have the ability to expose weaknesses all around the Marietta defense.
"All the stuff we are doing we already had in the playbook." said Buford head coach Bryant Appling. "We added a couple wrinkles here and there, obviously if you can do it better you do it more. So honestly we are really close to being balanced. We have the ability to be balanced every night it just depends on the opponent and what their strengths are. Last year with Justice, everyone said all you do is run the ball. I mean he was our best weapon at the time so he got the ball more. If our best weapon is throwing it with Dylan and the RPO and getting it out on the edge that's what we will do."
On the Marietta sideline, Coach Richard Morgan will look to his senior quarterback, Chase McCravy, to help pull off the upset. The second-year starter has been the engine of the Blue Devil offense, passing for 870 yards and five touchdowns. The running game has been lacking for the Blue Devils though five games, averaging only 63 yards per game. This means the receiving room, led by senior Bobby Butler, will have to continue to step up.
On defense, Marietta will have to lean on a group of fast linebackers and a long and quick defensive front, led by junior defensive end Anthony Kruah, to put pressure on Raiola and slow down the vaunted Buford rushing attack. The Blue Devils will look to make Buford uncomfortable and lean on the passing game, a style of play that has shown to be the only way to beat Buford in years past.
The Wolves on the other hand, will look to force the Marietta offense into obvious down field passing situations allowing their dominant pass rush, headlined by 2024 five-star Ohio State-commit Eddrick Houston and 2026 five-star Bryce Perry-Wright, to make McCravy uncomfortable. On the backend, Buford will look to use its star-studded secondary, with three defensive backs with a three-star ranking or better, to make life even harder for the Marietta passing game.
"They are playing really well together. Some of these guys are really talented, and some of these guys are under the radar, but I know how talented they are," said Coach Appling. "They push each other, they fight for each other, and they do what they need to do to get the plays they need to get on a Friday. When one of them makes a play, it feels like all of them make a play. The front seven has a lot of guys, old and young, that are contributing. They take it personally when someone does something wrong or another team gains yards on us. They're really locked in on stopping everyone the best way they can."
The Drive for the GHSA State Title matchup between Marietta and Buford will be televised live on Peachtree TV starting at 8 p.m. Click here to stream the game digitally on Atlanta News First.
Copyright 2023 WANF. All rights reserved.