Ronald Acuña Jr. becomes 1st player to hit 40 home runs and steal 60 bases in a season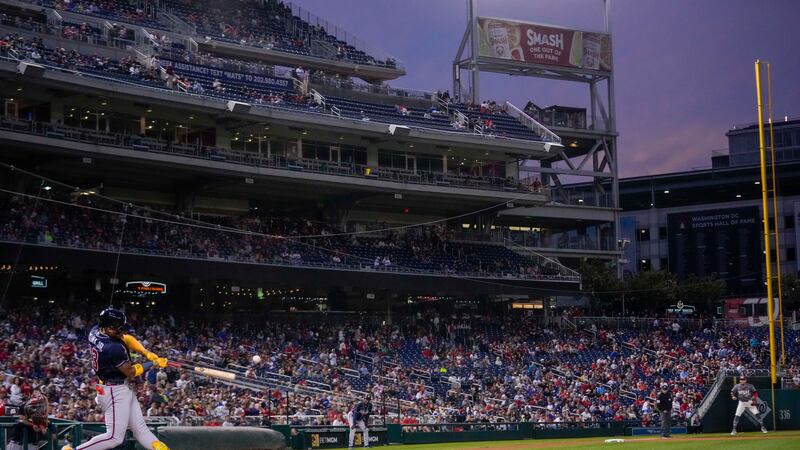 Published: Sep. 22, 2023 at 7:17 PM EDT
|
Updated: Sep. 22, 2023 at 10:55 PM EDT
ATLANTA, Ga. (Atlanta News First) - Braves outfielder Ronald Acuña Jr. has made baseball history, becoming the first player to hit 40 home runs and steal 60 bases in a single season.
Acuña made history when he hit a home run in the 1st inning against the Washington Nationals on Sept. 22. Acuña led off the game with the home run.
No other player has ever come close to matching the mark; even 40 home runs and 40 stolen bases are rare. Acuña is just the fifth player to reach that mark and the first since Alphonso Soriano in 2006.
Acuna's 40th homer led off the game against Nats left-hander Patrick Corbin. The blast was Acuna's 34th leadoff home run in his career and eighth this season. He is the first player to have 40 homers and at least 60 stolen bases in one season.
Acuna joins Alphonso Soriano (2006), Alex Rodriguez (1998), Barry Bonds (1996) and Jose Canseco (1988) in the 40-40 club.
"It's elite company, that's for sure," manager Brian Snitker said. "I'm just glad I got a front row seat to watch it."
Acuna also doubled and scored three runs. He has hit safely in 14 of his last 15 games, with eight homers and 15 RBIs in that span. His 143 runs scored are the most since Rodriguez also tallied 143 runs in his 2007 MVP campaign.
"He's healthy," Snitker said. "He wasn't healthy last year and he has been from the get go this year. I think that's a product of him doing what he can do because he's healthy again."
Acuña came close to the 40/40 mark in 2019 when he hit 41 home runs and stole 37 bases.
Multiple rule changes this year have made stealing bases easier. Pitchers can only attempt pickoffs twice in a plate appearance and bases expanded from 15 inches by 15 inches to 18 inches. This means runners have less space to cover between 1st and 2nd base, but also reduces the likelihood of serious collisions between a runner and a defender.
None of that takes away from Acuña's absurd accomplishment. The five-tool star is like few other stars in baseball and will play a role in the Braves outfield for years to come. The 25-year-old is signed through 2026.
Copyright 2023 WANF. All rights reserved.