Ronald Acuña's 140th run and Matt Olson's 53rd homer lift the Braves past the Nationals 10-3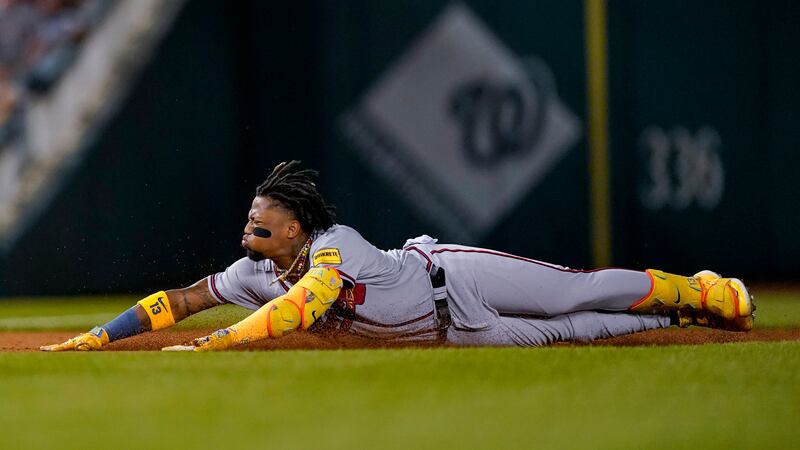 Published: Sep. 21, 2023 at 11:11 PM EDT
(AP) - Ronald Acuña Jr. scored his 140th run of 2023 — the most in the majors in 16 years — after tripling, Matt Olson hit his 53rd homer and Ozzie Albies went deep for one of his four hits, lifting the NL East champion Atlanta Braves past the last-place Washington Nationals 10-3 on Thursday night.
The Braves out-hit the Nationals 18-8, and every member of Atlanta's daunting starting lineup reached base at least once. Olson raised his RBI total to 132, equaling Gary Sheffield in 2003 for the most by a Braves player since the club moved to Atlanta. Albies went 4 for 6, including his 32nd homer, with four RBIs to top 100 in a season for the second time in his career.
Austin Riley, Michael Harris II and Orlando Arcia each collected three hits.
Max Fried (8-1), who got extra rest between starts to avoid developing a finger blister, allowed one run — on Alex Call's homer in the third — and three hits in six innings while striking out seven. He lowered his ERA to 2.55.
The left-hander started on opening day in Washington but left after just 3 1/3 innings that day and wound up on the injured list with a strained left hamstring.
Acuña, who received some "M-V-P!" chants during at-bats, went 1 for 6 and remained one homer shy of becoming just the fifth player in major league history with at least 40 homers and 40 steals in the same season. He has 39 home runs and 68 steals, including one Thursday.
His triple to left off rookie Jake Irvin (3-7) got the Braves going in the third, and Albies brought him home with a double to right. Acuña is the first player to reach 140 runs since 2007, when Alex Rodriguez got to 143.
Riley, Harris, Marcell Ozuna and Travis d'Arnaud tacked on RBIs as Atlanta batted around. Irvin allowed five runs, seven hits and three walks in 2 2/3 innings.
Olson's majors-best 53rd homer came on reliever Cory Abbott's first pitch of the eighth. Albies hit a two-run shot off Abbott in the ninth.
Abbott gave up eight hits and four runs in 4 2/3 innings — and set a Nationals record by recording eight strikeouts in a relief appearance.
The Braves, who clinched the NL East title for the sixth consecutive year, improved to 98-55. The Nationals are 68-86.
Copyright 2023 The Associated Press. All rights reserved.