Roswell police arrest 3 connected to massage parlor human trafficking ring
Published: Sep. 22, 2023 at 9:10 AM EDT
|
Updated: Sep. 22, 2023 at 10:28 PM EDT
ATLANTA, Ga. (Atlanta News First) - Several people have been arrested in connection to an extensive human trafficking and prostitution network spanning several metro Atlanta massage parlors, the Roswell Police Department said.
"Human trafficking is a heinous crime. And I say it is often hidden behind closed doors. But it's hidden in plain sight. It's in our community, it's in our neighborhoods, it's behind the doors of what appears to be legitimate business," said Earnelle Winfrey, a deputy district attorney with Fulton County.
41-year-old Yan Lin, 56-year-old Wei Cheng Huang, and 36-year-old Lin Chen face charges of racketeering, sex trafficking, and labor trafficking, according to police. Additional arrests are also expected.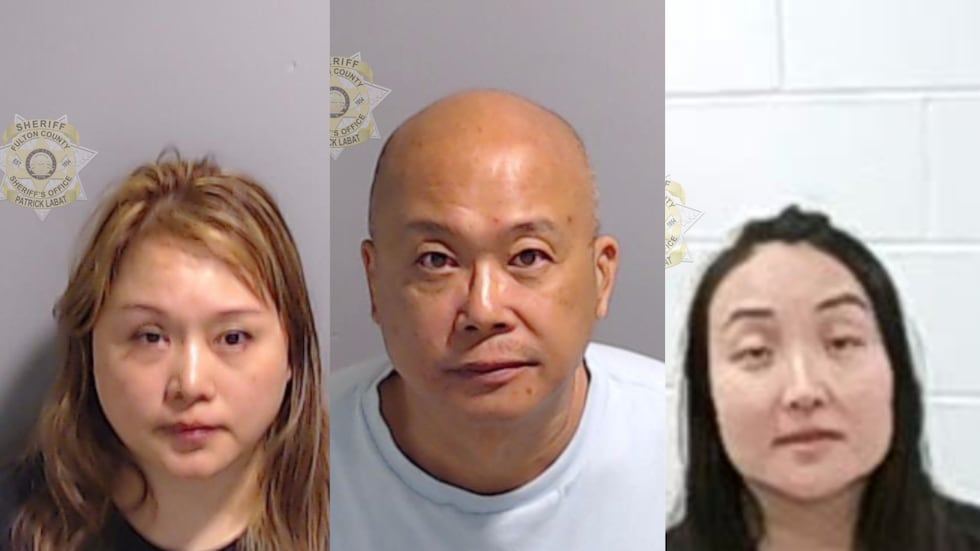 In May 2022, the Roswell City Council passed an amended ordinance to strengthen regulations in massage parlors and spas. Undercover police began to investigate spas, which is when "keen-eyed" detectives started to notice patterns, police said in a statement.
"This investigation is a crucial step towards our goal of eliminating illicit activities within massage parlors and spas, halting human trafficking, and making Roswell the number one family community in America," Roswell Mayor Kurt Wilson said in the statement. "I commend the Roswell Police Department for their tireless efforts to root out this criminal activity from our community."
The operation culminated on Wednesday when more than 70 officers searched 10 locations believed to support human trafficking in Roswell, Johns Creek, Sandy Springs, and Atlanta. The ring reportedly included the following spas:
Alpha Massage, 11235 Alpharetta Highway, Ste. 133, Roswell, GA

Ease Massage, 1085 Holcomb Bridge Road, Ste. 140, Roswell, GA

Enjoy Massage, 1580 Holcomb Bridge Road, Ste. 21A, Roswell, GA

Iris Massage, 880 Holcomb Bridge Road, Ste. B-105, Roswell, GA

Barefoot Massage, 5920 Roswell Road, Ste. A-113, Sandy Springs, GA

Rose Massage, 2409 Piedmont Road NE, Ste. B, Atlanta, GA
Investigators said the spas involved are temporarily closed, although Atlanta News First found the Barefoot Massage parlor on Roswell Road in Sandy Springs still operating. No one inside would comment. And Roswell Police responded to the Iris Massage parlor on Holcomb Bridge Road after learning they were still operating. Neighboring business owners shared their concerns.
"We want to make sure the community and the area we are around is on the up-and-up, and we want to make sure to add to the community ourselves as a business, as all the other businesses on this block do," neighboring business owner Ian Franklin said.
"It's awful. Human trafficking and sex trafficking as a woman is just terrible and I applaud the Roswell Police Department for all the work they have done to get rid of it," neighboring business owner Joanie Rhodes said.
Multiple trafficking victims were also partnered with support services.
RELATED COVERAGE: Sex trafficking is a $300M industry in Atlanta
Fulton County District Attorney Fani Willis spoke at a press conference announcing the arrests.
"I've said many times in my administration that our priorities are really gang violence and human trafficking, and unfortunately we know that those two are actually going together in this day and age," she said.
WATCH THE FULL PRESS CONFERENCE BELOW:
Trafficking reports have risen across the country in recent years — especially in cities like Atlanta, where underground sex trafficking brings in about $300 million a year, Mayor Andre Dickens said.
Copyright 2023 WANF. All rights reserved.