Community grieves after 3 people killed in Southwest Atlanta gunfire exchange
Published: Sep. 23, 2023 at 3:29 PM EDT
|
Updated: Sep. 25, 2023 at 12:03 AM EDT
ATLANTA, Ga. (Atlanta News First) - Police are investigating a shooting that left 3 people dead in southwest Atlanta Saturday afternoon.
According to the Atlanta Police Department, officers responded to the 600 block of Evans Street to multiple persons shot. When officers got there, they found three victims who had died from their injuries.
One of the victims has been identified as 17-year-old Derrion Johnson, officials said.
"There's one 17-year-old, one male is in his early 20s and one male is in his late 30s," said Lt. Andrew Smith.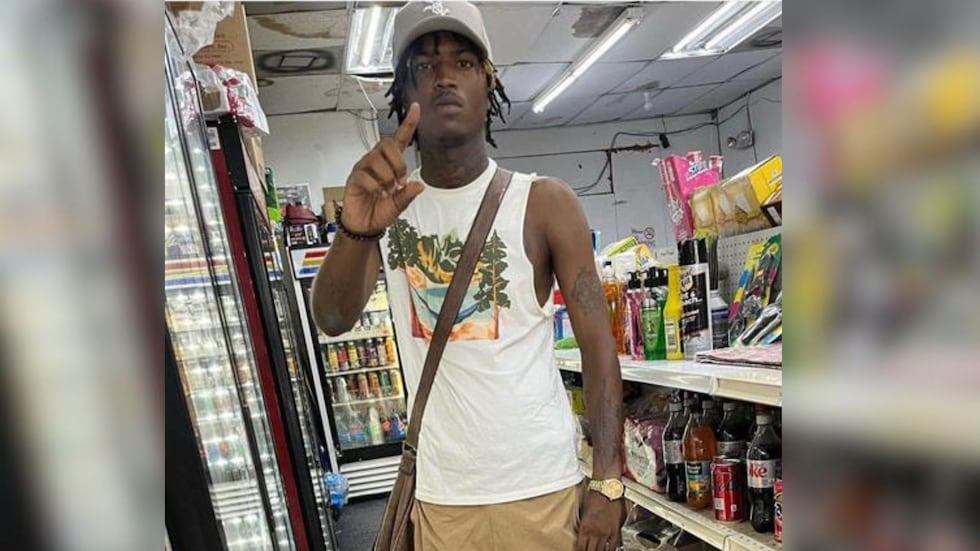 "At this point and time, we are not looking for anyone that is outstanding. We do not know at this time the motive behind this incident," Lt. Smith said.
Atlanta News First spoke to victims' family members at the scene and they confirmed one of the shot men was 20-year-old Jakobi Maddox.
Police said that this was a targeted shooting, where a man approached two individuals and began shooting at them. One of those individuals returned fire at the suspect. The suspect and the two individuals were struck by gunfire.
Smith said surveillance video was helpful in determining what happened.
"We know exactly what happened because we saw," Lt. Smith said.
Julious Khalid, Owner of YG Urban Cafe, said he witnessed the shooting.
"I saw a senseless murder of three young black brothers in the community and I watched one of them take his last breath," Khalid said. "I was standing right here. I came out of my shop and saw a young brother struggling for his life right there. See the other young brother struggling for his life right there and I could say is...really? It's senseless," he said. "My heart was so overwhelmed with just watching it after last week we just did a stop the violence gun rally right here on this block," he said.
Maddox's family was devastated when they showed up to the scene.
"He was a tall gentle giant. Very respectable," said Kiwii Ashmeade, Maddox's aunt. "Jakobi had a one-year-old baby. He will be two in January," she said. "Now we have to watch this beautiful baby boy grow up without a father," Ashmeade said. "This is not the news that you want to hear today. We're all supposed to go on a family vacation next week and now we're not going with my nephew, but instead, we have to bury my nephew," she said.
The grandmother to Maddox's baby spoke passionately to Atlanta News First.
"Stop killing one another. We need you black men. Stand up and take your place. We need too black women. Stand up and take your place," said Christina Geddis, grandmother to Maddox's baby. "I'm talking to every rapper. Every major rapper I'm challenging y'all, stop making all this gun music. Stop making this music that these children follow y'all, because they look up to y'all. I'm challenging every rapper. Every major rapper who got a major platform changes the agenda, so you can change the algorithm," she said.
Family members are sending an urgent message.
"Put the guns down put your fist up. Fight it out," Ashmeade said. "At least you can come back and live another day," she said.
Khalid said he is hosting a candlelight vigil on Sunday night. He's encouraging everyone to come out as he fights to end gun violence.
"For this to happen today, it's like we have to do more and so I'm challenging people, community leaders, just people who want to make a difference in the community, I want y'all guys to come out tomorrow," Khalid said. "We're going to do the candlelight vigil," he said. "It takes for all of us to come together. I can't just do it by myself, so my goal is to rally up the people who really care and let's take a stand," Khalid said.
On Sunday, Atlanta News First went to Khalid's candlelight vigil and "Cleansing The Energy Ceremony".
Khalid is the Founder and President of YG (Young Generation) Movement. According to a press release said the organization called an emergency meeting on Saturday and decided to open their holistic classes and workshops to the community.
During Sunday's vigil, Khalid said they will also be meeting every Friday to come up with solutions in hopes of ending gun violence.
To learn more about the Khalid's efforts, visit www.ygmovement.org.
Police did not say if anyone was arrested.
This is an active investigation. Stay with Atlanta News First for updates as they come into the newsroom.
Copyright 2023 WANF. All rights reserved.