Acuña becomes first 40-70 player
Albies lifts Braves over Cubs 6-5 in 10 innings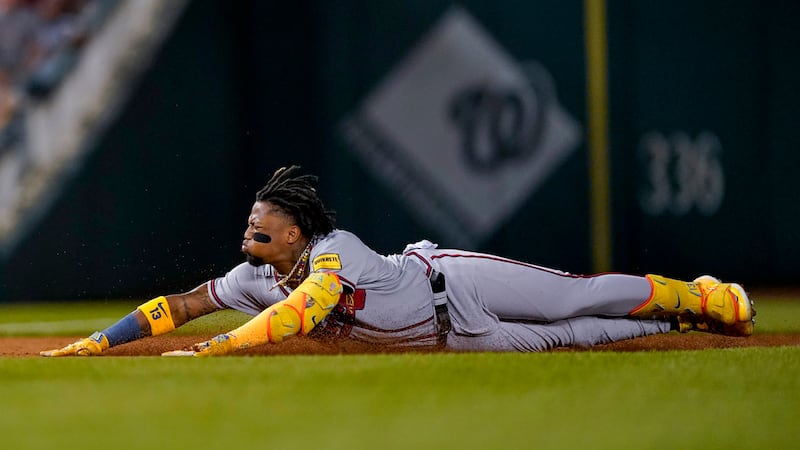 Published: Sep. 27, 2023 at 10:58 PM EDT
ATLANTA (AP) — Ronald Acuña Jr. established the 40-70 club, Ozzie Albies walked him off with a 10th-inning single and the Atlanta Braves dealt the Chicago Cubs another devastating setback by clinching home-field advantage throughout the NL playoffs with a 6-5 victory Wednesday night.
Acuña delivered a run-scoring single that tied the game at 5, then immediately took off for second to swipe his second base of the night and 70th this season. He has 41 homers, extending a historic season that already saw him become the first 40-50 and 40-60 player.
Chicago dropped into a tie with Miami for the NL's third and final wild card at 82-76. The Cubs blew a six-run lead in Tuesday's series opener, capped by Seiya Suzuki dropping a routine fly ball that handed the Braves a 7-6 victory.
This time, Atlanta erased deficits of 3-1, 4-3 and 5-4, with Marcell Ozuna hitting a tying homer in the ninth before Acuña and Albies drove home the tying and winning runs in the 10th off Daniel Palencia (5-3).
Albies also homered for the Braves. Jesse Chavez (1-0) earned the win.
Jameson Taillon allowed three hits over six-plus innings, retiring 17 of 18 hitters at one point. Mike Tauchman and Ian Happ homered for the Cubs.
Tauchman launched a 402-foot drive into the Chop House restaurant in right field for his eighth homer this season. Two batters later, Happ sent one even deeper over the center-field wall for his 20th homer.
Darius Vines made his second big league start for the injury plagued Braves, who are down two starting pitchers in the final days of the regular season. He went six innings, surrendering four hits and two earned runs.
Braves manager Brian Snitker was ejected in the second after the umps botched the call on a checked swing by Jeimer Candelario, allowing the Cubs to tie the game at 1.
The replay clearly showed that Candelario's bat fouled the ball off, but the umpires did not detect the contact and the play was not subject to video review.
As catcher Sean Murphy was reaching back to umpire Shane Livensparger for another baseball, the one that Candelario struck rolled to the backstop. Cody Bellinger trotted home from third on what was ruled a passed ball.
Copyright 2023 WANF. All rights reserved.