Georgia senator who wanted review of Fulton DA's actions in Trump indictment suspended from party caucus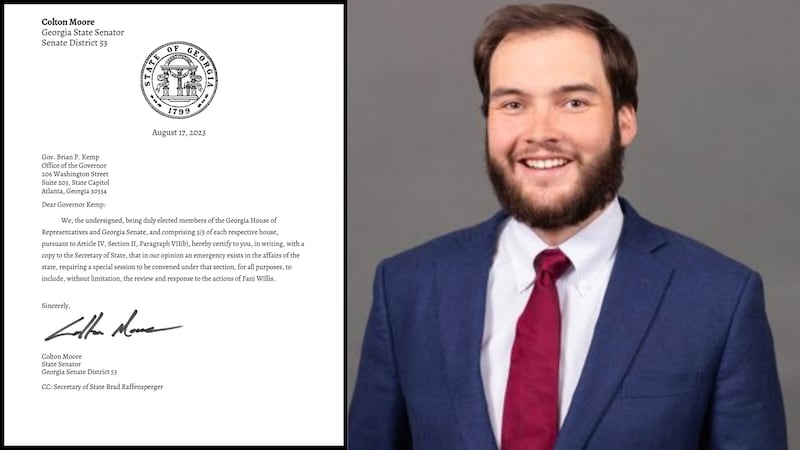 Published: Sep. 29, 2023 at 10:16 AM EDT
ATLANTA, Ga. (Atlanta News First) - A Georgia state senator who pushed for a special session to review Fulton County District Attorney Fani Willis' actions following the indictment of former President Donald Trump has been indefinitely suspended from his party's caucus.
Colton Moore, a Republican who represents District 53 in the Georgia Senate, wrote in a letter to Kemp that an "emergency exists in the affairs of the state," urging him to call the legislative session.
READ: Georgia senator wants session to review Fulton DA's actions in Trump indictment
"America is under attack," the senator said on X (formerly Twitter). "I'm not going to sit back and watch as radical left prosecutors politically target political opponents. We must strip all funding and, if appropriate, impeach Fani Willis."
In a written statement, Georgia Senate Republicans announced on Thursday that Moore would not be allowed to participate in any future caucus, citing violations of caucus rules on multiple occasions during Moore's push to investigate Willis.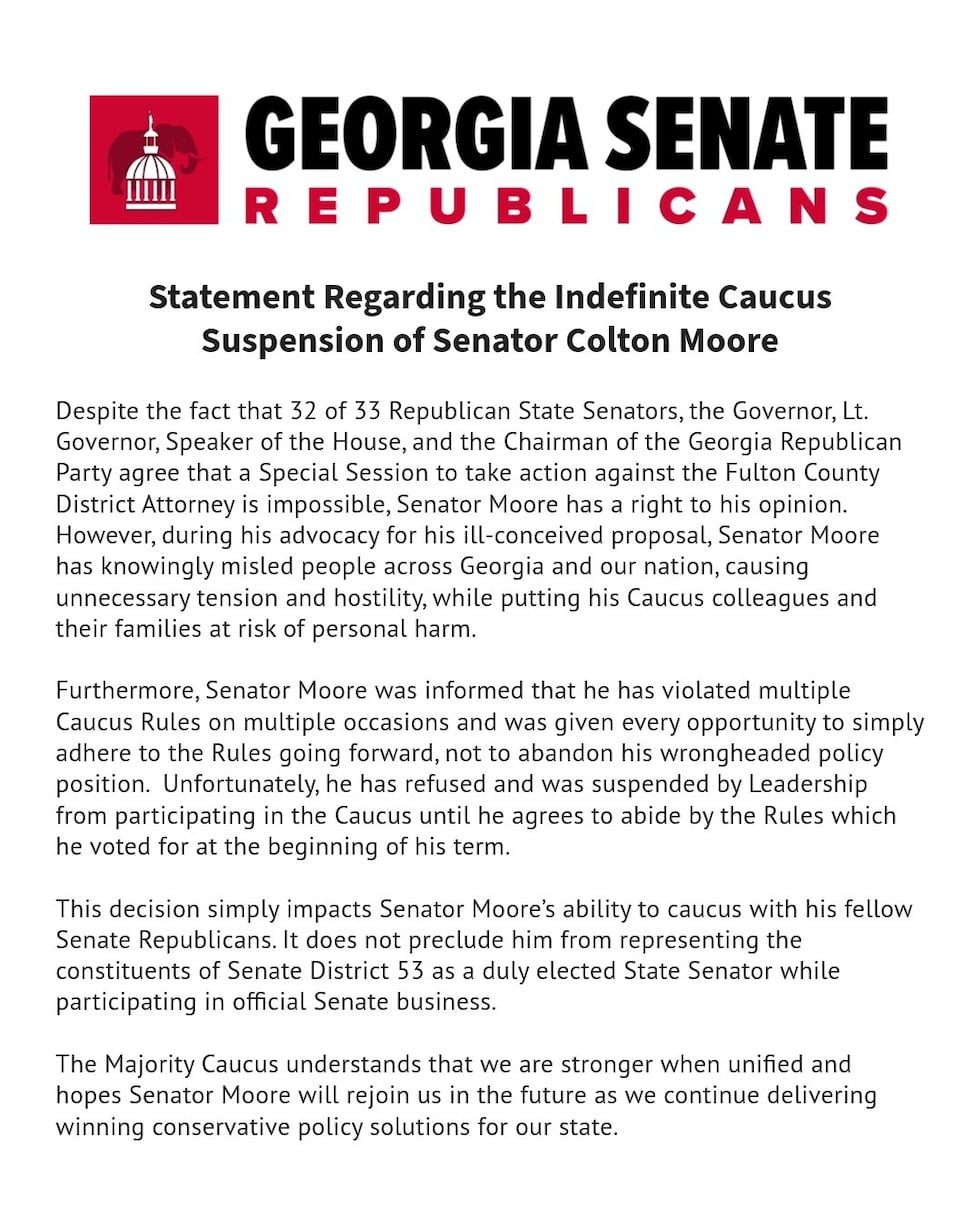 The suspension does not block the freshman state senator from participating in other senate business as an elected representative, the group stated.
"Senator Moore has a right to his opinion. However, during his advocacy for his ill-conceived proposal, Senator Moore has knowingly misled people across Georgia and our nation, causing unnecessary tension and hostility, while putting his Caucus colleagues and their families at risk of personal harm."
RELATED: Here are the 19 people named in the sweeping indictment against Donald Trump
Senator Moore took to X/Twitter to respond to the suspension announcement, calling the Georgia Senate Republicans "RINOs" — an unfavorable acronym that stands for "Republican In Name Only" and describes politicians who are misaligned with party ideology — and claiming those who pushed him out are "acting like children."
Atlanta News First is committed to bringing you the most extensive, fair and balanced coverage of former President Donald Trump's historic indictment in Fulton County.
Copyright 2023 WANF. All rights reserved.