High school football: Class 6A showdown between Lee County vs. Houston County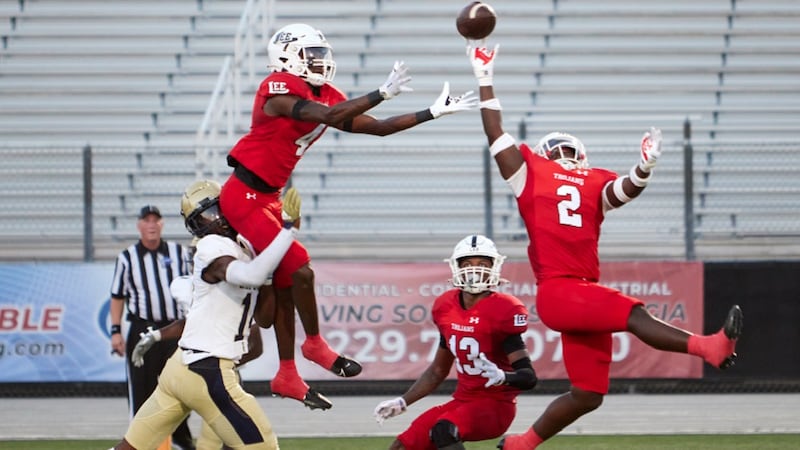 Published: Sep. 29, 2023 at 10:11 AM EDT
|
Updated: Sep. 29, 2023 at 11:34 PM EDT
ATLANTA, Ga. (Atlanta News First) - The Trojans of Lee County travel to Warner Robins, Ga. to face the Bears of Houston County in both teams' Region 1-6A opener on Friday night.
The Class 6A No. 4 Trojans came into their matchup with the Bears ranked for the 100th straight week, continuing the streak through five weeks in the 2023 season, starting 4-1 with their lone loss coming to 7A No. 2 Colquitt County. The Bears, currently ranked No. 2 in 6A, have started 5-0 with wins over 4A No. 4 Perry and 5A No. 6 Warner Robins.
On offense, Lee County has relied on the run to power its offense, rushing on almost two thirds of its plays. The Trojans are led by Class of 2025 four-star running back Ousmane Kromah, who leads the team in both rushing and receiving with a total of 819 yards and 12 touchdowns through only five games. Kromah accounted for five touchdowns in last season's 50-21 victory over Houston County. Besides Kromah, the Trojans have three-star running back and Georgia Southern-commit Devin Collier who has rushed for 282 yards and six touchdowns with limited offensive playing time due to mainly playing on the defensive side of the ball.
"We try to be balanced on offense, but we are going to play to our strengths, which changes year to year," said Lee County head football coach Dean Fabrizio. "We are very fortunate this year. We've got a really good offensive line and a host of good running backs. Obviously, Ousmane Kromah, one of, if not the top running back in the 2025 Class, is a special player. He had over 3,700 yards in his freshman and sophomore seasons."
The Bears, on the other hand, are led by their high-powered passing attack. At quarterback Houston County has four-star Antwann Hill, who has thrown for 1,274 yards and 11 touchdowns. While Hill may be the big name, the wide receiver room is second to none with three players rated as three-star recruits in Kale Woodburn, Ricky Johnson and Recordo Tarver.
"We typically operate out of 11 or 12 personnel, and we rarely operate out of four wides," said Houston County head football coach Jeremy Edwards. "We have the ability to do it, but we like to have a tight end at all times. We have five really good receivers, three with Division 1 offers. Our whole philosophy is personnel placement, tempo, and spacing. We will line up in wide splits, play fast, and we try to put our best on your worst."
On defense, Houston County has been very solid, holding opponents to only 16 points per game. The defense will look to use a long and disruptive defensive line, led by ends Jayden Jackson and Nate Langham, to slow the vaunted Lee County run game, forcing the Trojans into obvious passing situations where Lee County is not as comfortable.
The Trojan defense will look to a dangerous pass rush to make Hill uncomfortable in the pocket. The Lee County pass rush, led by LeRoy Jackson and Jaydon Cory, has terrorized opposing quarterbacks through the first five weeks of the season, already having 20.5 sacks on the season to go along with 37 more QB pressures. In the secondary, the defensive backs will look to continue making life hard for the passing game and have already intercepted seven passes with 37 pass deflections this season.
"When you play against a player like AJ Hill, it forces you to play really sound defense in all phases," said Fabrizio. "You can't favor one guy or the other. We are going to have to play sound defense across the board. You can't favor one receiver over another or anything like that. It's going to force us to be even across the board."
The Drive for the GHSA State Title matchup between Lee County and Houston County will be televised live on Peachtree TV starting at 8 p.m. Click here to stream the game digitally on Atlanta News First.
Copyright 2023 WANF. All rights reserved.