Historic West End business owner holds meeting to address gun violence
YG Urban Cafe will open on Oct. 7 with pilot program for kids and other resources for community the community
Published: Sep. 29, 2023 at 11:32 PM EDT
ATLANTA, Ga. (Atlanta News First) - Young Generation Movement founder Julious Khalid has been working for years in the community to get kids on the right path.
On Friday night, he held a special community meeting to address gun violence in the West End after three people were killed in a shooting last Saturday.
RELATED: Community grieves after 3 people killed in Southwest Atlanta gunfire exchange
"The incident that happened last weekend where three young people were fatally shot right here in front of our building, it inspired us to really reach out to the community. Reach out to everyone and say 'Hey, let's come together and let's come up with a solution that all of us can unify on,'" Khalid said.
The meeting was held at the YG Urban Cafe on Evans Street in the West End. Community leaders, business owners, city leaders and other non-profit groups were in attendance to discuss community safety and well-being, gun violence prevention strategies, and collaboration opportunities.
"We not just talking. We're actually doing it every day," Khalid said. "We have a strategy and we're doing it every day, supporting our young brothers in the community with our space," he said.
Khalid said they will officially open the cafe on Oct. 7.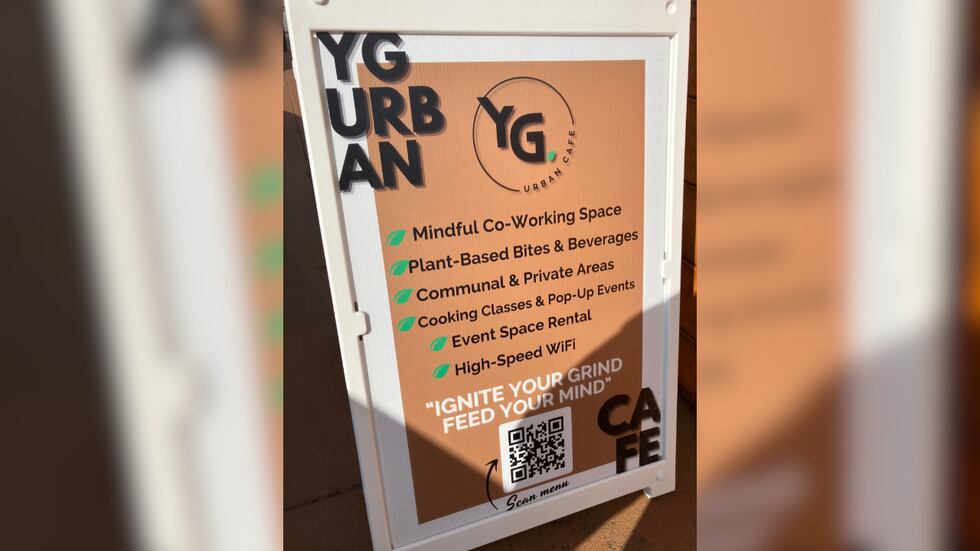 "The YG Urban Cafe, it is the strategy. It is the solution that we need and so we're here looking for support from people that want to join forces with our strategy," Khalid said.
They will be using the space for their current program.
"Right now, we got a total of 30 kids that are going to go through the program. With these 30 kids, this is going to be the pilot so they can see the programs actually working and so we can spread this program," Khalid said.
"We will be having classes here on a weekly basis. These classes are geared toward health and wellness, the overall well-being when it comes down to the holistic approach to gun violence," Khalid said. "We're taking it a little different approach where we are going to be teaching them how to mediate, teaching them about critical thinking," he said.
In the meeting, the group discussed on-the-job training, presentations, etiquette training, and more.
"We could've had our business out there in Buckhead, but no, we came right here to the community where the problem is located and so we're just rolling up our sleeves and ready to deal with it," Khalid said.
Other community groups spoke at the meeting about what they offer to the community and how they hope to assist this program.
"If they need anything. If it's some resources they can't find, they can call us and partner with us and because of our network we can reach out to help whoever they need help with," said Mimi English with the Cure Violence OAA (Offender Alumni Association). "Educational training, financial training, parenting classes," she said. "It's a whole mixture of things, but I think job training as well," she added.
Evita Hill, who also works with Cure Violence OAA said the space and their work are needed.
"Doing this type of work here, I feel like it's my responsibility and my duty to give back because I tore up so much," Hill said. "I robbed; I steal, not killed literally but I was killing the community with my actions with what I was doing," she said.
Khalid is calling on everyone in the community to help in this fight against violence, whether it's donating time or funds, coming to the space to mentor, or partnering with the Cafe and the Young Generation Movement.
"It's time to get involved," Khalid said. "If you're tired of the young people killing each other or you're just tired of the violence, the senseless violence that's going on in the community, it's time to unify, it's time to come together, it's time to get involved," he said. "It may not affect you directly, but indirectly it's all of our responsibility to approach this situation."
Khalid said they will be meeting up at this location to talk about solutions, and how the community can join forces in their strategy every Friday. He also said they will record the Stop the Violence and Spread Awareness Podcast every second Friday,
For more information on how you can help the Young Generation Movement, click here. For more details about the YG Urban Cafe, click here.
Copyright 2023 WANF. All rights reserved.