Nationals hit season-high 5 home runs, overpower Braves 10-6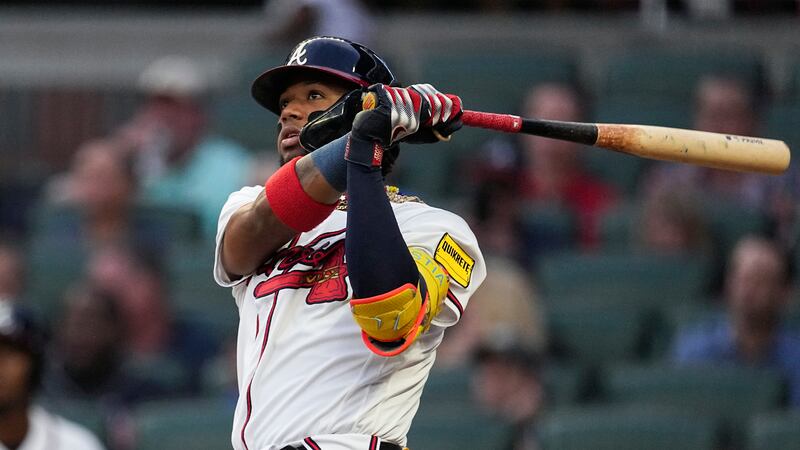 Published: Sep. 29, 2023 at 10:52 PM EDT
(AP) - Carter Kieboom, Jake Alu, Kibert Ruiz, Dominic Smith and Lane Thomas homered to help the Washington Nationals beat the Atlanta Braves 10-6 on Friday night.
Washington tied a season high for homers on a night the NL East champion Braves started resting regulars to prepare for the postseason.
Jordan Weems (5-0) picked up the win with one inning of relief, and Kyle Finnegan closed out the game. The Nationals used six relievers after starter Trevor Williams gave up two runs and seven hits in 3 1/3 innings.
Ronald Acuña Jr. went 1 for 2 with a run and two steals before being pulled after two innings. He tied the Braves' steals record of 72, set by Otis Nixon in 1991. Matt Olson was lifted for a pinch runner in the third inning after getting an RBI single in the first and walking in the third.
Brad Hand (5-3) took the loss in relief of rookie Allan Winans, who gave up six runs in 5 1/3 innings and surrendered three home runs. The Braves had won four straight.
Ruiz was 2 for 5 with three runs for the Nationals. Luis Garcia was 2 for 5.
Braves rookie Forrest Wall, starting in place of Michael Harris II, was 3 for 5 with a run and a steal.
Kieboom's home run was a three-run shot in the fourth inning that opened the scoring for the Nationals and gave them a 3-2 lead.
The Nationals scored three runs in the sixth inning to re-take the lead. A solo home run by Ruiz and a two-run shot by Smith gave the Nationals a 7-6 lead, and they tacked on three more runs in the seventh inning off right-hander Jesse Chavez. Thomas led off with a homer, and the Nats added two unearned runs after errors by Chavez and Nickey Lopez.
Copyright 2023 The Associated Press. All rights reserved.