Atlanta credit union displays 450-foot-tall mural of Jimmy Carter for 99th birthday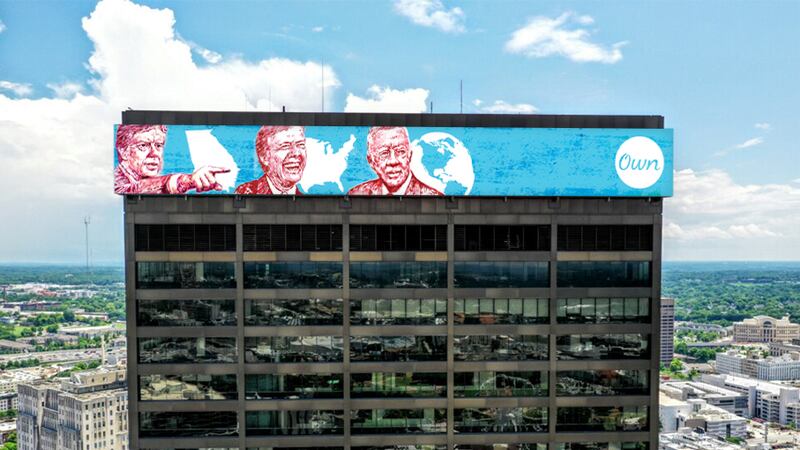 Published: Oct. 1, 2023 at 10:07 AM EDT
ATLANTA, Ga. (Atlanta News First) - As the country celebrates former President Jimmy Carter's 99th birthday on Sunday, Georgia's Own Credit Union decided to join — although their approach is larger than most.
The credit union is displaying a 450-foot-tall mural of Carter at 100 Peachtree Street in downtown Atlanta until midnight. The art features three portraits of Carter, emphasizing his importance in Georgia, the nation and the world.
The portraits were originally commissioned by local artist Dane Jefferson for President's Day. Jefferson said he was thrilled at the opportunity, limiting the color palette to red, white and blue for impact.
"He has had such a long and amazing career as a leader and a role model, so when I began working on this project, I really wanted to capture the different periods in his life as a public servant," he said. "I'm very happy with how it turned out, and seeing it in the skyline on the Georgia's Own Credit Union sign is just incredible."
The tribute is one of many, spanning from social media to several in-person events across Georgia.
RELATED: 'We honor you, Mr. President' | Politicians, celebrities and more pay tribute to Jimmy Carter during 99th birthday
Atlanta News First and Atlanta News First+ provide you with the latest news, headlines and insights as we look at the life and accomplishments of Georgia's favorite son. Download our Atlanta News First app for the latest political news and information.
Copyright 2023 WANF. All rights reserved.