First Alert Forecast | Cooler air filters in late in the week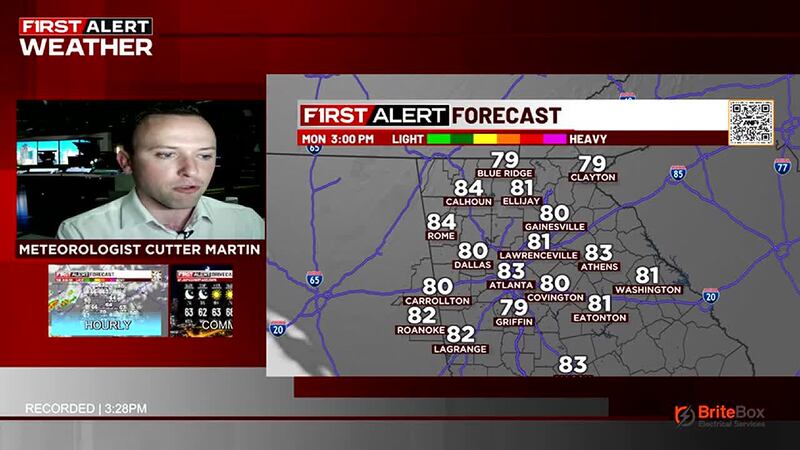 Published: Oct. 1, 2023 at 6:11 AM EDT
|
Updated: Oct. 1, 2023 at 8:30 PM EDT
ATLANTA, Ga. (Atlanta News First) - A stretch of just-warmer-than-average afternoons and pleasant mornings is on the way. A stronger 'cool front' moves through north Georgia late in the week.
After peaking in the mid-80s this afternoon, temperatures are cooling through the 70s inside the Perimeter this evening. It'll cool into the upper 60s outside of the city by 11 p.m. It's a stunning evening, with low humidity and a light breeze.
Temperatures bottom-out in the low to mid-60s around the immediate metro early Monday morning; coolest before 8 a.m. Communities away from the city could, briefly, dip into the upper 50s... especially across the higher elevations of far north and northeast Georgia. Sunshine sends temperatures into the upper 70s by noon in Atlanta. It'll peak in the low to mid-80s between 3 and 5 p.m. Monday. It'll feel similar to Sunday. The forecast remains dry.
Temperatures trend a degree, or two, cooler both in the mornings and afternoons heading into the middle of the week. Sunshine rules the forecast.
You can check the 10-day forecast in the First Alert Weather App.
The next cold front to impact our area is forecast to approach north Georgia Friday and move through Friday evening or early Saturday morning. It won't provide much in the way of rain, but a few showers are possible. Cooler, drier air filters in through the weekend, into early the following week.
Have a great Sunday evening,
Cutter
Copyright 2023 WANF. All rights reserved.