Georgia's rising public high school graduation rate hits record in 2023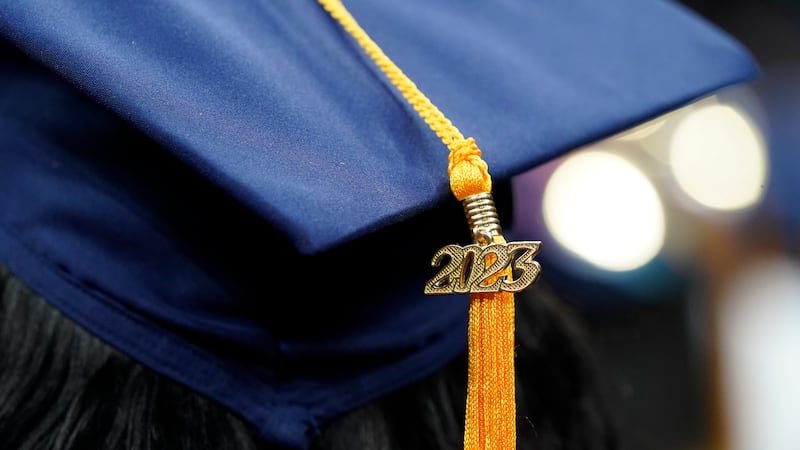 Published: Oct. 10, 2023 at 11:59 AM EDT
ATLANTA, Ga. (Atlanta News First) - Georgia's rising public high school graduation rate hit a record in 2023, with the state Department of Education saying Tuesday that 84.4% of seniors graduated on time in the spring.
That's up slightly from 84.1% last year, and a record high since Georgia began using calculations that require a student to graduate in four years with a regular high school diploma.
"Every data point represents an actual student and new opportunities that have opened up for their future," state Superintendent Richard Woods said in a statement. "I'm confident we'll continue to see positive results as we invest in academic recovery and building a student-centered educational system."
Graduation rates have increased since 2012, when fewer than 70% of Georgia seniors were graduating on time.
The national graduation rate was 87% in 2020, the last year for which it is available.
It's gotten easier to graduate in Georgia in recent years, with the state in 2020 eliminating four end-of-course exams. The state Board of Education voted in July to let districts count the remaining end-of-course exams in algebra, American literature and composition, biology and U.S. History for as little as 10% of a student's grade in those courses starting this school year. The threshold previously had been 20%.
State standardized test scores fell in Georgia during and after the COVID-19 pandemic and have not yet fully recovered.
Statewide, 94% of Asian and Pacific Islander students graduated on time, as did 87.1% of white students, 82.5% of multiracial students, 83.7% of Black students and 77.6% of Hispanic students. Georgia historically has had one of the narrowest gaps between Black and white graduation rates.
Among students with disabilities, 73.2% graduated on time, as did 66% of students learning English.
Figures show 39 school systems and five charter schools recorded graduation rates of 95% or above. The Calhoun city school system, the Statesboro STEAM Academy and the Webster County school system graduated 100% of seniors on time.
Six traditional school systems recorded graduation rates of 80% or below, as well as both of the Georgia's statewide online charter schools and state schools that serve blind and deaf children. The traditional school systems with the lowest graduation rates were Clarke County and Randolph County, at 75.4%
Recording even lower graduation rates were three charter schools aimed at high school dropouts and the school system serving state Department of Juvenile Justice detention facilities.
Copyright 2023 WANF. All rights reserved.