Fulton County middle school students sign college commitments
Published: Nov. 14, 2023 at 12:33 PM EST
|
Updated: Nov. 16, 2023 at 9:41 AM EST
SANDY SPRINGS, Ga. (Atlanta News First) - In what has become an annual tradition, eight Fulton County middle school students took part in a ceremony Tuesday, signing commitments to graduate high school and accept $10,000 scholarships.
The students are from middle schools across the district. The scholarships are funded by REACH Georgia, a needs-based scholarship that begins in eighth grade.
"Some of the colleges will match it, so it could actually be $20,000 to $30,000 in scholarships," said Dr. Christopher, assistant superintendent of student services for Fulton County Schools, "so it keeps them focused, keeps them on the path to not only graduating high school but going onto their post-secondary goals."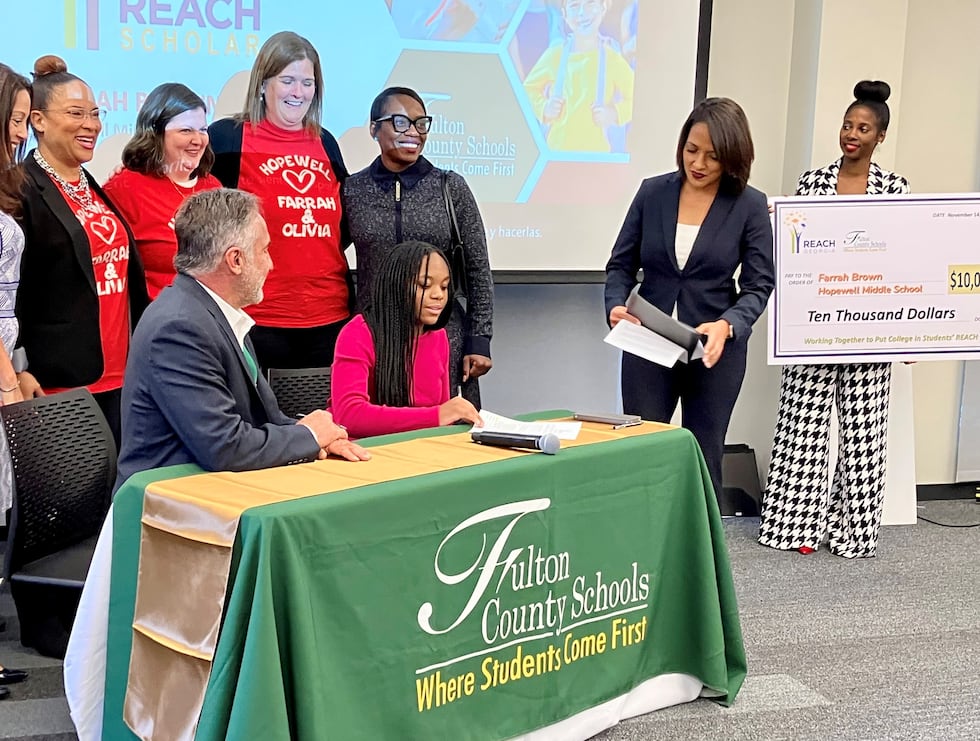 Scholars are paired with a mentor and an academic coach through high school. They must maintain good behavior, good grades (2.5 GPA in core courses), good attendance and graduate from high school.
Scholars who successfully complete the program and graduate are awarded a $10,000 scholarship that can be used at any HOPE-eligible college in Georgia. The REACH scholarship is in addition to any other grants or scholarships the students receive.
2023 REACH Scholarship recipients from Fulton County Schools include the following:
Alaya Wright, McNair Middle School

Eloiza Sierra, Paul D. West Middle School

Raul Hernandez-Juarez, Sandy Springs Middle School

Londyn Rosemond, Renaissance Middle School

Abjen Bouraleh, Elkins Pointe Middle School

William Edgar, Taylor Road Middle School

Farrah Brown, Hopewell Middle School

Olivia Connolly, Hopewell Middle School
After signing her commitment letter, Farrah Brown told Atlanta News First, "It's going to give me a push to work harder. I'm definitely going to go to college. I'm going to get the best education I can, and I'm going to work hard in the future, just like my mom."
Copyright 2023 WANF. All rights reserved.