Atlanta Food Bank receives 30,000 pounds of food ahead of Thanksgiving holiday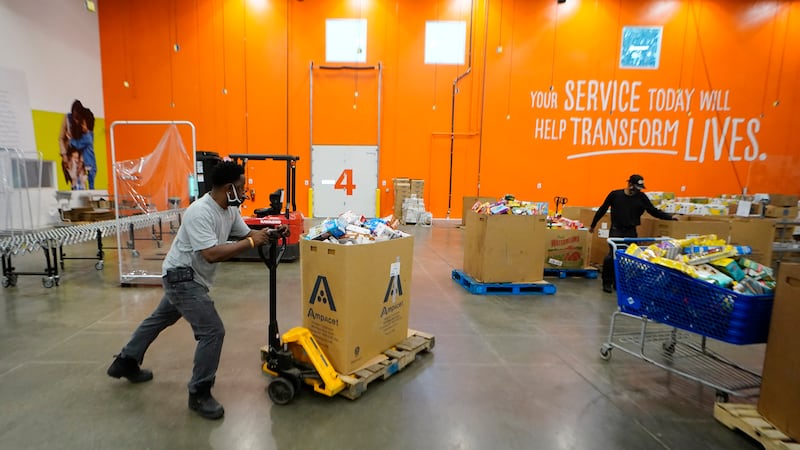 Published: Nov. 15, 2023 at 12:09 PM EST
ATLANTA, Ga. (Atlanta News First) - Just in time for Thanksgiving, the Atlanta Community Food Bank is getting a 30,000-pound donation of food.
Tyson, Walmart, and Bimbo bakeries are behind the contribution.
"Families right now are dealing with their kids being out of school starting on Monday, they've got more food they've got to go get to support the needs of their family. That's extra cost, that's a busy time, a lot of need in the community and so, we're working double time right now to get everything out into the community ahead of Thanksgiving," said Kyle Waide, the CEO of the Atlanta Community Food Bank.
Many things are also costing more than before. The U.S. Bureau of Labor Statistics Reports consumer prices up 4% from last year.
"We've seen demand grow by 40% over the last 18 months. Families are really feeling the pressure coming from inflation, higher gas prices, higher food prices, just putting a lot of pressure on families, so they need more help from us right now," said Waide.
That's why the food bank is so grateful for Wednesday's donation from Walmart, Tyson, and Bimbo.
"The amazing bread and chicken donation we got today is going to get food on the tables of families in need this Thanksgiving season," said Waide.
"This time of the year is when families get together to have a meal together and typically, at the center of the plate, is protein, and Tyson is a protein producer so we're hoping that at the center of that plate is a Tyson product," said Jake Helsley with Tyson.
"It's really humbling when you see how many people there are that are in need when it comes to food items so, it's just a pleasure for Bimbo bakeries to give back to the community, share the prosperity," said Jeffrey Smith with Bimbo.
The food bank received 25,000 pounds of protein and 5,000 pounds of bread, equaling 25,000 meals.
"It's a tough time for some families to put food on the table, to be honest with you, so we want to make sure people have a great holiday," said Chaz McAfee with Walmart.
The food bank partners with 700 nonprofits throughout 29 counties in Georgia to distribute all of the donations.
Copyright 2023 WANF. All rights reserved.