High School Football: Drive for the GHSA State Title: Langston Hughes vs Rome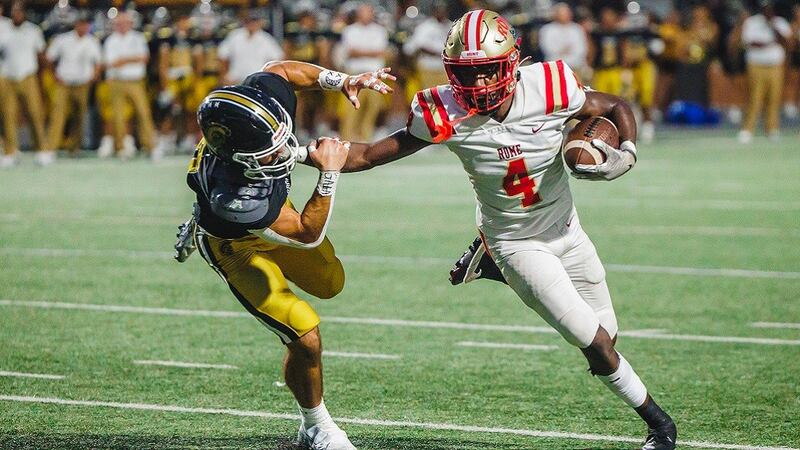 Published: Nov. 17, 2023 at 10:14 AM EST
|
Updated: Nov. 17, 2023 at 11:31 PM EST
ATLANTA, Ga. (Atlanta News First) - A revenge driven Rome (10-1) team will face Hughes (9-2) in a rematch of their 2022 Semifinals match up. Rome, the Region 6-6A champions, are coming into their match with Hughes on a eight game winning streak since a week three loss to 7A power Carrollton.
The Wolves have been dominant since the start of region play, scoring no less than 55 points in any game and only giving up a total of 29 points. However, last year's game will have to be an afterthought, according to Rome head coach John Reid.
"Both teams are completely different," said Reid "We both may be equal to or better than last year, that has yet to be seen."
Hughes, the defending 6A champion, has been great this season after losing much of the undefeated 2022 team that saw them set the single season scoring record, scoring 792 points. The Panthers are on a six-game winning streak following their loss to region rival Douglas County and have outscored the past six opponents by 49 points per game, while only giving up 10 points.
The Panthers offense is led by five-star senior quarterback Prentiss 'Air' Nolan, who threw for nearly 2,000 yards and 20 touchdowns in the regular season.
Nolan, who moved into the top 10 in career passing yards in state history last week with over 10,000 career yards, will look to continue to climb the all-time leaderboard as he becomes healthier and healthier after fighting nagging injuries throughout the season.
"We want to stay balanced," said coach Boone Williams. "We want to be able to run the ball, and we want to be able to pass the ball."
The Hughes run game is headlined by senior running back Justus Savage, who has rushed for over 1,000 yards. He is helped by a star-studded offensive line with four-star Dontrell Glover and three-star Tavaris Dice playing offensive tackle, the Panthers have easily run the ball against every team they have rushed for over 2,300 yards averaging 8.8 yards per carry.
>> HOW TO WATCH PEACHTREE SPORTS NETWORK
Rome's offense has once again been near the top of the state in scoring, scoring over 50 PPG. The Wolves are led by quarterback Reece Fountain, who has offers from the likes of Georgia Southern and Samford. In his fourth year starting Fountain has thrown for over 2,000 yards, the third time in his career he has done so. While Fountain is a phenomenal QB, he is also one of the most vocal and experienced leaders on the team.
The Rome running game has grown since the start of the 2023 season behind junior running back Chance Arthur, who has offers from Georgia Southern and Appalachian State. While not the focus of the offense, the rushing game is crucial to keep defenses honest and can gash any defense that uses too many resources to stop the pass.
The Hughes defense has been dominant, giving up only 15 points per game. While not as talented as the 2022 defense, the 2023 defense still features some very special players. The Panthers defense is led by their secondary. Their secondary will look to three FBS defensive backs, UCF-commit Jakob Gude, UAB-commit Nacari Jahnson and Buffalo-commit Xavier Leonard, to force opposing offenses to make mistakes, causing turnovers and causing them to rely more on the ground game. However, they rarely see a quarterback as good as they do in practice.
"You have to think they go against one of the best quarterbacks in the country every day," said coach Williams "So, you are facing a quarterback that can make all the throws every day from June sixth to now. Of course, you are going to win some and lose some, but it prepares you to battle on Friday night."
The defensive front controls opposing offenses with a group of impressive linemen. The defensive line is led by defensive tackle and Wake Forest-commit Ameir Glenn and Junior defensive end Quavion Pitts, who have helped the Panthers to 24 sacks and 34 tackles for loss. Giving opposing teams even fewer options to succeed.
The Rome defense is the strength of the team. The defense has held nine of their 11 opponents to single digits while shutting out four of them. The defense is anchored by its defensive line, with North Carolina State-Commit Justin Terrell as its most highly recruited player forcing teams to game plan around him.
The linebacker corps has made huge strides throughout the season, taking pressure off the Wolves secondary. Linebackers Joe Wilkinson and Jaedon Harmon, who both have FBS offers, have shown the ability to quickly read plays, to decide whether to drop back and defend the pass and crash down and attack the run. This allows the secondary to pay more attention to defending the pass while the team still shuts down the run.
But it all comes down to certain key aspects of the game – mental and physical – for both teams entering the quarterfinal matchup.
"We want to get into certain concepts, so we want to stay as balanced as possible," Williams said. "That is one of the reasons we won last year because we stayed balanced."
You can watch the game live at 8 p.m. this Friday on the Peachtree Sports Network or on the Atlanta News First app on your phone, Roku, FireTV or AppleTV.
Copyright 2023 WANF. All rights reserved.