South Fulton K-9 dies after hit by gunfire from College Park officer, police say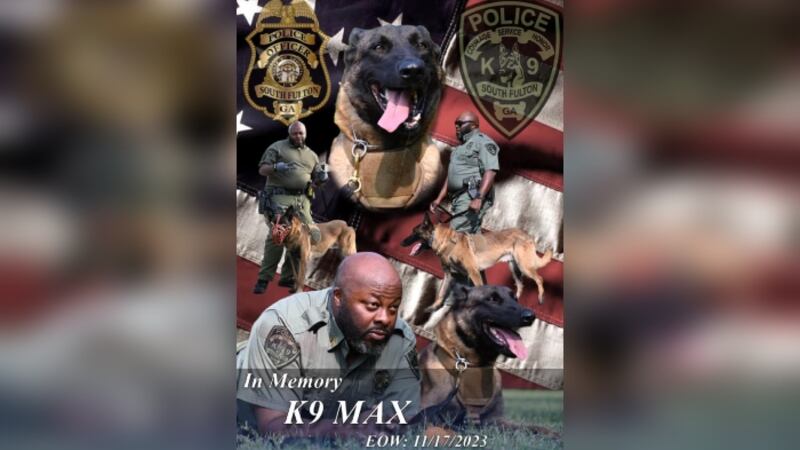 Published: Nov. 17, 2023 at 3:53 PM EST
ATLANTA, Ga. (Atlanta News First) - A South Fulton K-9 officer died Friday morning after he was hit by gunfire from a College Park officer as police were working to capture a suspect, according to the South Fulton Police Department.
The suspect was wanted in an aggravated assault case stemming from an early morning traffic stop, during which the suspect shot "a firearm multiple times" and escaped, the department said.
South Fulton police said they got a credible tip around 10:45 a.m. that the suspect was spotted in the 4000 block of Lakemont Drive in College Park, after having "escaped into the Camelot Condominiums," about six miles south.
A South Fulton K-9 team soon responded to the location, where Max, the K-9 officer, was "struck by gunfire by an officer from the College Park Police Department," South Fulton police said.
Police said the suspect has since been taken into custody. Police have not released any further details on the suspect.
"The South Fulton Police Department is working closely with the College Park Police Department to thoroughly investigate this heartbreaking incident," the department said. "We are committed to understanding the full circumstances of this tragedy and ensuring such an incident does not occur again."
South Fulton police said they'll hold a memorial service for Max, which the public is invited to attend. The department will announce details on the memorial service soon.
"Our K-9 officers are not just dogs; they are valued members of our police family and community," South Fulton police said in a statement. "We appreciate the community's support and understanding during this difficult time. We also extend our gratitude to all officers and departments involved in the ongoing effort to ensure public safety."
Copyright 2023 WANF. All rights reserved.