Fourth and final escaped Georgia inmate, murder suspect, captured near Stockbridge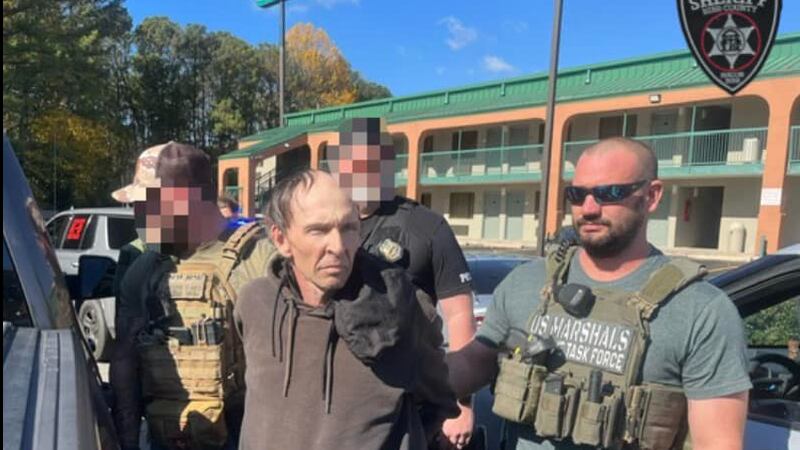 Published: Nov. 18, 2023 at 1:39 PM EST
ATLANTA, Ga. (Atlanta News First) - The last of the four Georgia inmates who escaped from a central Georgia detention center in October has been captured, according to the Bibb County Sheriff's Office.
Several authorities arrested 52-year-old Joey Fournier near Stockbridge just before noon on Saturday, the office said. Fournier is a murder suspect in an ongoing case.
A photo provided by the sheriff's office shows Fournier being arrested outside of what appears to be a Quality Inn. He will reportedly be returned to the Bibb County Law Enforcement Center later today.
"We are grateful that this last escapee has been captured," Bibb County Sheriff David Davis said in a statement. "My heartfelt appreciation goes out to all of the hard working law enforcement officers from the Bibb County Sheriff's Office and from all of our partner agencies who worked tirelessly to bring these four fugitives back into custody."
Fournier, alongside Chavis Stokes, Marc Anderson and Johnifer Barnwell, escaped from the Bibb County Detention Center on Oct. 16. Officials said the men climbed through a damaged window and fence before driving away in a blue Dodge Challenger.
Barnwell, 37, was found at a home in Augusta on Nov. 12. He was being held for drug distribution.
Stokes, 29, was arrested in Macon County on Oct. 26. He was being held for drug trafficking and possession of a firearm.
Anderson, 24, was arrested inside a Buckhead apartment on Nov. 3. He was being held for aggravated assault.
RELATED STORIES:
VIDEO: U.S. Marshals arrest one of 4 escaped Georgia inmates
Second escaped Georgia inmate arrested in Fulton County, U.S. Marshals confirm
Police find getaway car used in escape of 4 Georgia inmates
Reward grows as manhunt continues for 4 inmates who escaped Georgia jail
3 of 4 escaped Georgia inmates captured, FBI Atlanta says
Copyright 2023 WANF. All rights reserved.