Black passengers searched more than others at airport
Black comedians' lawsuit accuses drug agents of profiling them at airport gates. Part three in a series.
Published: Nov. 20, 2023 at 12:12 PM EST
|
Updated: Nov. 20, 2023 at 3:07 PM EST
ATLANTA, Ga. (Atlanta News First) - Comedian Clayton English was boarding a flight to Los Angeles when he was stopped by two narcotics officers on the jet bridge.
"I made it through the TSA checkpoint, made it on the train to my gate, got all the way to the gate, waited at the gate," English said, recalling the 2020 stop. "And now you pop out on the jet bridge? It just wasn't making sense to me."
English and fellow Black comedian Eric André filed a lawsuit against Clayton County Police accusing narcotics officers of racially profiling them at Hartsfield-Jackson Atlanta International Airport.
The comedians' lawsuit cites a national study published in 2016 (using 2015 travel data) showing Black passengers made up eight percent of the flying public. The lawsuit claims 56 percent of passengers stopped by Clayton County were Black.
Atlanta News First Investigates was unable to find current demographic data showing the racial makeup of passengers flying into and out of Hartsfield Jackson.
Our analysis of search logs obtained by Atlanta News First Investigates shows Clayton County Police stopped more than 360 passengers on the jet bridge over a 17-month period in 2020 and 2021. Two thirds of those passengers were people of color.
Black passengers made up 54 percent of the searches. Black men were by far the largest group at 46 percent of the jet bridge stops, according to the logs. Atlanta News First Investigates did not include some of the data in our analysis because the logs were inconsistent and some entries had missing information.
"When they stopped me on that jet bridge," English said, "I'm not saying that I saw everybody that went past me, but most of the other people that went past me seem to be, you know, white people."
Clayton County Police declined an interview request after the comedians' lawsuit was dismissed by a federal judge, who said the men could have just walked away from the consensual stops. English told Atlanta News First Investigates that the officers blocked his way and were on both sides of him. He says he did not believe he was free to go.
The comedians have since filed a notice of appeal with the 11th Circuit US Court of Appeals in Atlanta.
Seizing cash
The logs show Clayton County Police seized more than a million dollars over the 17-month period we reviewed. In the vast majority of cases, officers found no drugs, and made arrests in only a handful of searches of outbound passengers.
Atlanta News First Investigates uncovered operations by plain-clothes drug agents at the airport working for both Clayton County Police and the federal High Intensity Drug Trafficking Area task force, which is operated by the U.S. Drug Enforcement Administration (DEA).
Most officers on that federal task force are local police who are cross-sworn as DEA agents, like a Brookhaven K9 handler credited with over a million dollars in cash seizures since he joined the task force full time last year.
The Brookhaven Police Department gets a nine-percent cut of those federal forfeitures. Court records show cash from the Clayton County forfeitures is split between the county police department and the district attorney's office. The DA's office did not respond to repeated requests for an interview.
"It sounds great when you think they took this drug dealer's whole stash of cash and they took his cars," English said, "but how many of those are they really getting versus how many people that are just in the airport that are hardworking?"
An attorney representing one passenger whose money was seized wrote to the Clayton County Superior Court judge, saying, "The officers were predicated upon nothing more than racism, conjecture, stereotypes, bigotry, profiling, speculation, and a hunch."
Actor Jean Elie was also searched on the jet bridge by Clayton County Police. He recorded the search on his phone. When panning the camera across the jet bridge, his first words were, "I'm a random search, guys. So [the officer] says. See all those white folks? And I'm the random search."
Operation Jetway
The DEA has continually operated an airport interdiction program since 1975, according to U.S. Department of Justice records. Operation Jetway is the three-day training program the DEA provides to its own task force officers and local police.
Clayton County officers received that very training, even though that information was redacted in records provided to the comedians' attorneys. Atlanta News First Investigates was able to read the text behind the redactions showing its airport narcotics officers received Operation Jetway training the same year they stopped English and André.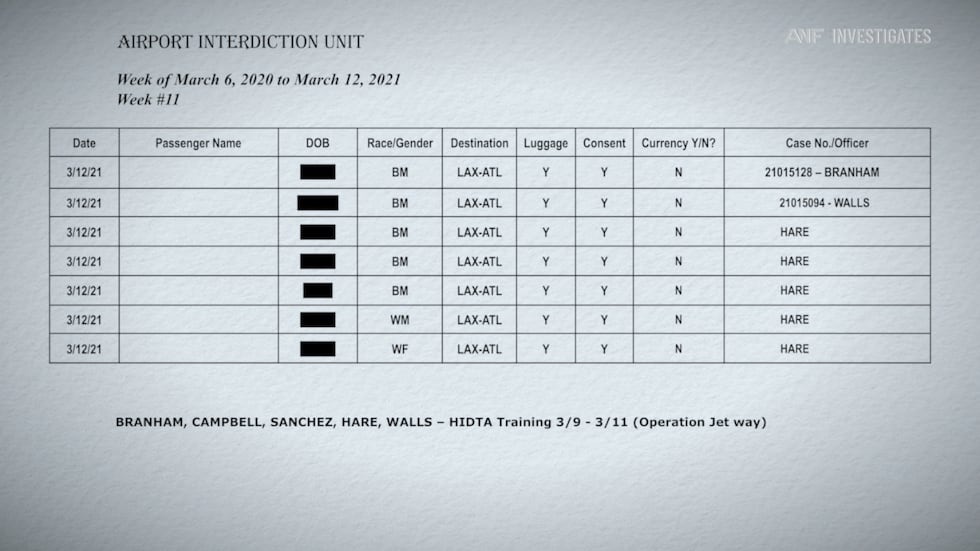 After an open records request was filed for the identical records provided to English's and André's attorneys, Clayton County Police provided the same search logs. But the information about the Operation Jetway training wasn't redacted; it was completely missing.
Too many searches in a day to keep demographic data
During the administration of President Bill Clinton, then-Attorney General Janet Reno ordered the DEA to keep records of every stop and search. The forms included information about race and ethnicity.
A review of those records at the Minneapolis airport in 2001 showed "cold stops were overwhelmingly minority persons," according to a lawsuit where a passenger successfully sued the DEA for discrimination.
In 2015, the Department of Justice Inspector General discovered "the DEA has not collected demographic information … since July 2003." The DEA stopped collecting the data two decades ago in part because, "officers were unable to document every contact they had because there were too many in a day," the Inspector General wrote.
The IG's report determined, "cold consent encounters can raise civil rights concerns," and the 2015 report recommended the agency start collecting demographic data again. Atlanta News First Investigates filed a Freedom of Information Act request for records with the DEA. The agency has not responded, and the DEA has declined multiple requests for information and interviews.
In its 2015 report, the Inspector General wrote, "the Department of Justice has noted that cold consent encounters are more often associated with racial profiling."
In 2017, the Department of Justice Inspector General issued another report on cold consent searches writing, "risks to civil liberties are particularly significant."
The IG said the warrantless searches were not random but, "based on the observations and immediate judgment of DEA agents and task force officers absent any preexisting intelligence of a specific drug crime."
'Black Louis Vuitton bag'
Records show DEA task force officers call these airport searches "random interdiction stops" or "random consensual encounters," but the same records include the officers' observations that led them to pick specific targets for a search.
One passenger "began to look around while other passengers began to board their flight;" another "appeared nervous."
Clayton County Police logs show 67 percent of searches at the airport were of people of color. "The odds of it being random and it coming out to where all the people that you're pulling over are Black people, are people of color, are some ethnic group, are some minority, it's like, no, there's no way this is random," English said.
One characteristic showed up in multiple court records justifying the forfeiture of cash. The passenger had a "Louis Vuitton backpack" in one case; a "brown Gucci bag" in another case; and "a black Louis Vuitton bag" in another.
"I had a black hoodie on," film director Tabari Sturdivant said. "I had an expensive duffel bag around my back, and I had some expensive shoes on."
Sturdivant was searched by DEA task force officers at the gate, including the Brookhaven K9 handler, when boarding a flight to Los Angeles, according to video recorded by another passenger. Sturdivant said he did not see any White passengers getting searched from his flight.
"There was a handful of Black people. My flight was full. So, let's say it was 200 people on the flight and maybe five to ten Black people on the flight, period," Sturdivant said.
English said Clayton County officers searched his expensive bag, and he said they commented on how nice it was.
When Atlanta News First Investigates asked him about the focus on designer bags, English said, "the only reason I can think is because [Black passengers] look like they're not supposed to have something that nice, or you think that this person shouldn't be able to afford this item based off their skin color."
If there's something you would like Atlanta News First Chief Investigator Brendan Keefe to look into, email him directly at brendan.keefe@wanf.com.
Copyright 2023 WANF. All rights reserved.