Vital panel discussion on mental health awareness held at Trap Music Museum
Panelists and visitors engaged in a healthy and necessary conversation about the importance of mental health and how to seek resources if needed.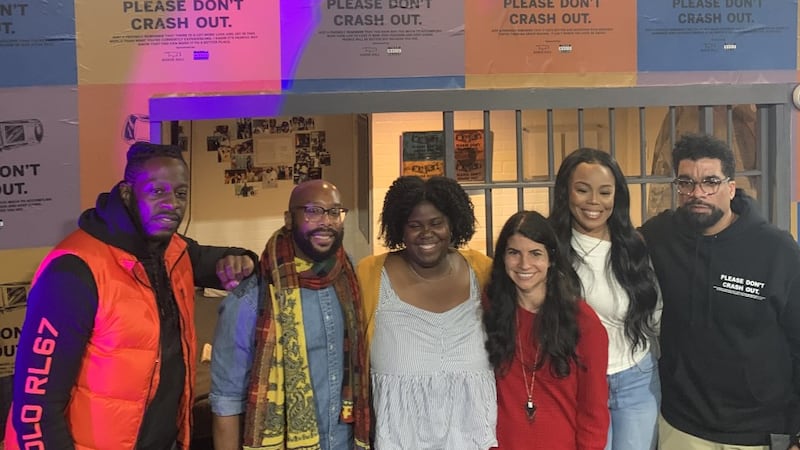 Published: Nov. 11, 2022 at 6:37 PM EST
ATLANTA, Ga. (Atlanta News First) - The world-renowned Trap Music is known for highlighting the evolution and importance of trap music, hip-hop culture, and art.
On Wednesday evening, the Trap Music Museum and Honor Roll Clothing joined for a panel discussion titled, "Please Don't Crash Out" which focused on mental health awareness and healthy coping mechanisms for everyday stress.
The panelists included Briana Spivey of the Grady Project, Diana Cortina-Rodriguez of Grady Trauma Recovery Center, Jasmine Milan, Science Gallery Director Floyd Hall, and Atlanta rapper Young Dro.
"This type of work is something I'm tremendously attached to. We want to make sure we're reminding people of their own human dignity as well as informing them of the options that are available," said Dr. Wall Rice, the moderator and a professor of Psychology at Morehouse College.
RELATED: Zoe Safe House partners with Trap Music Museum for back-to-school drive
As the panel discussion began, Young Dro introduced himself and let everyone know that he has been sober for 16 months. The crowd of roughly 100 people applauded his bravery and strength for sharing.
"The Trap Music Museum is an interactive experience that uses art to showcase the rich culture of trap music," said Adlia Halim, Art Curator, and Artist Relations Manager. "Paying homage to the inspiring trials and triumphs of today's biggest trap stars and providing a platform for emerging visual artists. We tell a very vivid story of generational and systematic trauma, poverty, and oppression. It was important for us at Trap Music Museum to partner with organizations that put a spotlight on mental health and trauma which affect the black community in staggering numbers. Making therapy accessible and acceptable is important to us."
RELATED: Community comes together to celebrate Juneteenth event at Trap Music Museum
The panelists each detailed common stress factors in everyday life such as traffic, work stress, personal stress, family, and other life stresses, and how it is important to know when you need help in speaking up.
"My research centers around the traumas and mental health of black women. A lot of the work that I do centers around redefining strength and what that looks like. Being able to realize that you can be strong and lean on your friends and let people know that you're struggling today and that is ok," said Spivey.
RELATED: Fulton County school expands mental health services
The panelists took turns sharing personal stories of life stresses and how they've coped with them and how important it is to realize that asking for help is not a sign of weakness.
"Traffic is stressful, kids are stressful, life is stressful, work is stressful, family things are stressful. Being able to acknowledge that stress will happen is the first step," said Dr. Rice. "It's important to communicate with others because if you don't communicate that to other people, they can't help you out. As much as we hold it in and want to be strong and feel like we got it, we need help. And that is okay."
Advocates encourage Georgia voters to fight for mental health
"There is a new field of science called image genetics and what they're studying right now is how these multi-generational patterns of trauma are impacting our teens. People of color are now at a higher rate of developing mental health conditions, physical conditions, chronic pain conditions," said Cortina-Rodriguez.
Cortina-Rodriguez also pointed to the value of possibly talking about the stresses in your life with a trusted therapist. It could be key, to begin a conversation discussing your childhood experiences and give your therapist an opportunity to evaluate and understand your early life.
"A lot of times people don't even consider what happened in their childhoods traumatic because it is so normal to them. If someone hears gunshots outside their windows, that's normal to some people," she said.
Spivey pointed to the importance of making sure you also incorporate things that you like that make you feel good.
"Whether that is things like listening to music, drawing, yoga, meditation, going to church, whatever that feels like to you. Make sure you incorporate that into your weekly and daily schedule because if you don't. the stress will continue to build, and you will continue to feel overwhelmed, and you will crash out," said Spivey. "That is the result of us not tending to your stress."
Honor Roll Clothing has designed and manufactured its brand in Atlanta for the past 12 years. Officials were happy to be a part of a pivotal conversation.
Copyright 2022 WANF. All rights reserved.